Kristin Omdahl Yarns Holiday 2015 eBook Knit and Crochet Patterns Now Available!
Kristin Omdahl Yarns Holiday 2015 Collection is now available! These digital downloads include two long-sleeved seamless pullovers (one knit, one crochet), three shawls (two knit, one crochet), and three really cool crochet gift patterns.
Here are some photos and details about the projects. Click on any of the photos to be directed to download these patterns.
Kimmy Long Sleeved Knit Pullover
Originally designed as a cap sleeve pullover, this sweater pattern now comes complete with long sleeve instructions. This simple and beautiful lace top couldn't be easier to knit. It's worked in the round, seamlessly, from the bottom up. The sheer lace yoke is both sweet and sexy. The drape of the yarn in simple stockinette stitch is a dream to wear, and everyone will admire its movement. Dress it up or wear it casually with jeans. You can't go wrong with the Kimmy Top! For extra help, please grab your yarn and needles along with the pattern and watch my new YouTube video.  This lengthy video will walk you through the entire sweater process, step by step, with lots of tips and tricks along the way!
Sweet Clara 2.0 is new and improved with long sleeve instructions! This beautiful top is easy to crochet from the top down. The raglan shaping is worked within the stitch pattern. The whole top is worked in the round and it is completely seamless. Sizes range from 36" bust to 52" bust with ample flounce to showcase the yarn's incredible drape at the hemline.
Razor Shell Knit Shawl
Knit from the bottom up, the first rows are daunting but with the decrease rows they just get faster and faster! The garter stitch ruffle has a beautiful flounce to it, and the vertical lines of the lace pattern burst into a fan with the cleverly placed decreases in pattern. The bamboo shines like silk and drapes so beautifully. Wear it to your fanciest of holiday parties!
Misty Memories Knit Shawl Pattern
This gorgeous shawl is knit from the top down, beginning with a burst of flower petals, trails down into a trellis-like lace pattern and ends with a scalloped lace edging. Inspired by daydreams of gazing out through the mist and being mesmerized by the textures of the sea.
Molten Lava Crochet Shawl Pattern
This shawl was an exciting exploration for me. Turning a pretty lace stitch pattern into a top down shaped triangular shawl involves figuring out how to make a single increase on either side and a double increase down the center. My goal was to make it look seamless and effortless, without compromising the beauty of the design. For an edging, I created a larger scale of the 3 petal floral motif. Make sure to block each petal separately for a perfectly framed, finished shawl. The shawl has a 4 row repeat that is easy to memorize once you get established.
Budding Lotus Sampler Lace Crochet Candle Holders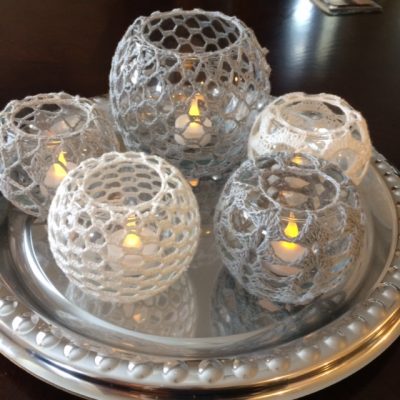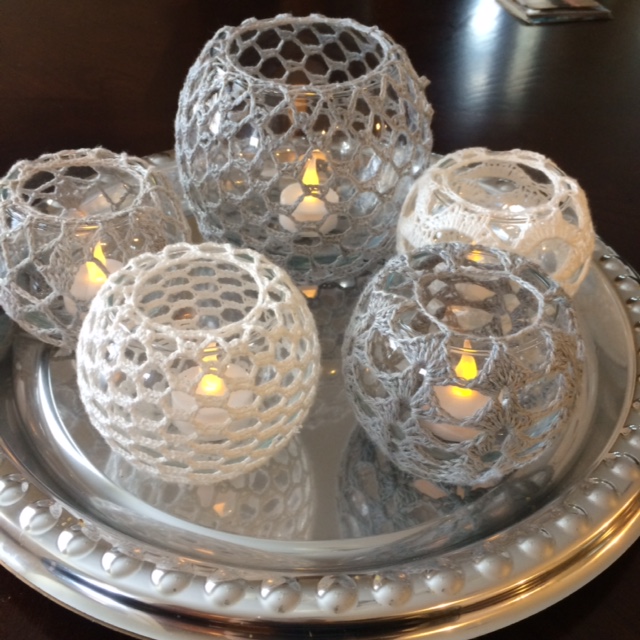 UPDATE 1/21/2021: This pattern has been updated and can be found in "80 Handmade Gifts Book"
I'm always on the lookout for ways to make quick, but thoughtful and beautiful, handmade gifts. Inspired by the bubble shape of these glass vases, I created beautiful lace crochet covers and crocheted them right onto the vases! The construction style is very similar to top down seamless hats, and I offer the patterns in multiple sizes. You could starch or glue your lace to your vases, but I used a decrease round at the end to crochet them securely to the vases! This pattern includes instructions for 4 stitch pattern designs, and in 3 sizes: 4", 5.5" and 8" bubble vases. Be sure to check out my YouTube Video that walks you through the whole process!
I've been wanting to make these for years! It took some trial and error to finalize the techniques and tools to make them a practical project. The options are limitless! Small, medium large, round, square, oval, and crochet edgings and more edgings… OMG I could make these all day long. You can decorate any space beautifully and of course they make one-of-a-kind, awesome gifts. xoxo, Kristin