Behind the Designs, Continuous Crochet: Enchanted Diamonds Crochet Pattern by Kristin Omdahl
UPDATED 1/21/2021: The Enchanted Diamonds Crochet Scarf Pattern features a #2 sport weight yarn that is no longer available. You can easily substitute any of my #2 sport weight yarns for this project:
The interior panel stitch pattern looks complicated but is easy to understand after a repeat or two. I love how the scalloped flower edging is worked and joined as you go within the rows of the shawl. Constructed from the center outward, this piece has symmetrical ends; the narrow edging then matches the long edging as well.
You will need an H/8 (5mm) crochet hook and 3 hanks of Drew Emborsky Gemstones yarn. It is a beautiful handdyed, sport weight wool yarn and it's on SALE. Check out Drew's website for more details:
I've had the pleasure of knowing Drew personally for many years. We have worked together on books, designs, projects and we were even on opposite TV shows at the same time! He is a kind, loyal, talented and very smart man and I am proud to call him my friend. I feel really lucky when I get to choose yarns for my books with the intention of highlighting good people. This is a prime example. I remember when he started his yarn company, and I have enjoyed watching him cultivate it over the years. He has a great eye for color and it wasn't easy picking just one for this project.
This picture was taken at a trade show in 2012 when he was promoting his The Crochet Dude product line.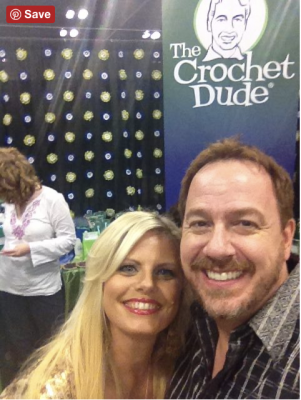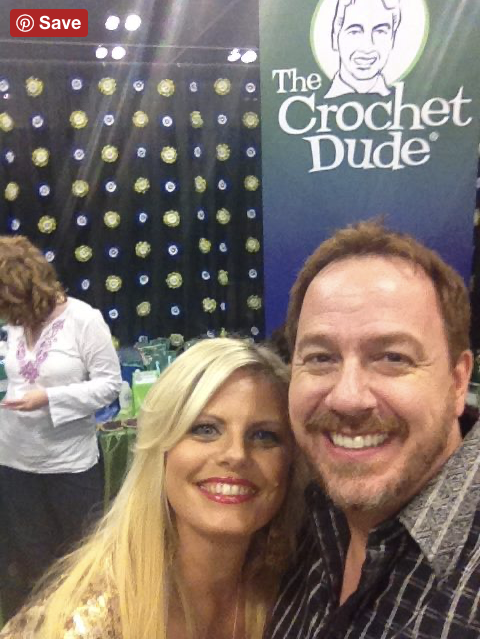 Shop Kristin Omdahl Yarns HERE
Shop Kristin Omdahl Crochet Patterns HERE
Shop Kristin Omdahl Knitting Patterns HERE
I would love to see your creations. Just as much fun as making these myself is the satisfaction I get from seeing my designs come to life and other crochet fans wearing them too. There are now 2 ways you can share what you have done!
Share yours by joining  Create. Share. Inspire on Facebook where you can interact with me as well as many other members who have a love of knitting and crochet just like you! It is a wonderful and safe place to share your photos of finished projects in my knitting or crochet patterns or yarns, and to see what others are making, too.
I have recently added a wonderful new interactive section to the website which I invite you to take part in, it has been a smashing success and such fun so far. It is the new "Share a Project" section. You, my creators, can upload images and descriptions of your creations to share with the ever growing community! To upload simply click here. 
Additionally, I host a livestreaming podcast weekday on my YouTube Channel called Create Share Inspire Podcast. You can join the audience and even ask me questions LIVE! I often do a show and tell, or quick demo and I always interact with the live audience. It is a lot of fun!
You can browse through almost 800 previously recorded episodes HERE: Create Share Inspire Podcast Playlist . Make sure to subscribe to my YouTube Channel to get reminders when the next episode airs LIVE.
I look forward to seeing what you create!
xoxo,
Kristin