Double Cover Girl: Interweave Crochet Summer 2016 Crochet Patterns by Kristin Omdahl
In all the years of knit and crochet designing, I have graced the covers of a few magazines, found my name on the spines of many books at Barnes & Noble, and even found myself on TV while channel surfing.
All of it exciting, all of it special, and somehow I still find myself overwhelmed at the moment as I see my first magazine advertisement gracing the back cover of a magazine. I often joke about the phrase "Go big or go home" and I guess I live by it! Not only did I place my first magazine advertisement this month for Kristin Omdahl Yarns, but I bought the biggest ad they offered: the back cover! And then I was graced with the good fortune of having my mermaid beach blanket pattern featured on the front cover of the same magazine!
I also have 6 patterns in the issue. With the exception of the mermaid beach blanket ON THE COVER, the rest of the patterns feature Kristin Omdahl Yarns (Be So Fine and Be So Sporty). The skirt and tank top feature Be So Sporty in Tropical Hot Coral, Crushed Berries, Million Dollar Red and Parisian Bordeaux. The body jewelry, and all 3 pairs of barefoot sandals feature Be So Fine in Tropical Hot Coral. Subscribe to my YouTube Channel, and be the first to know when I publish tutorials on these patterns soon!
Here are some pictures of them: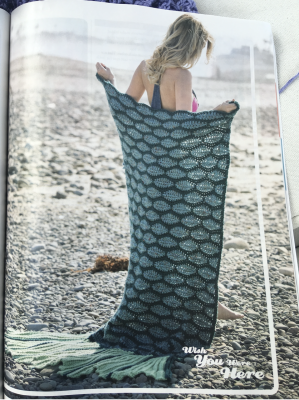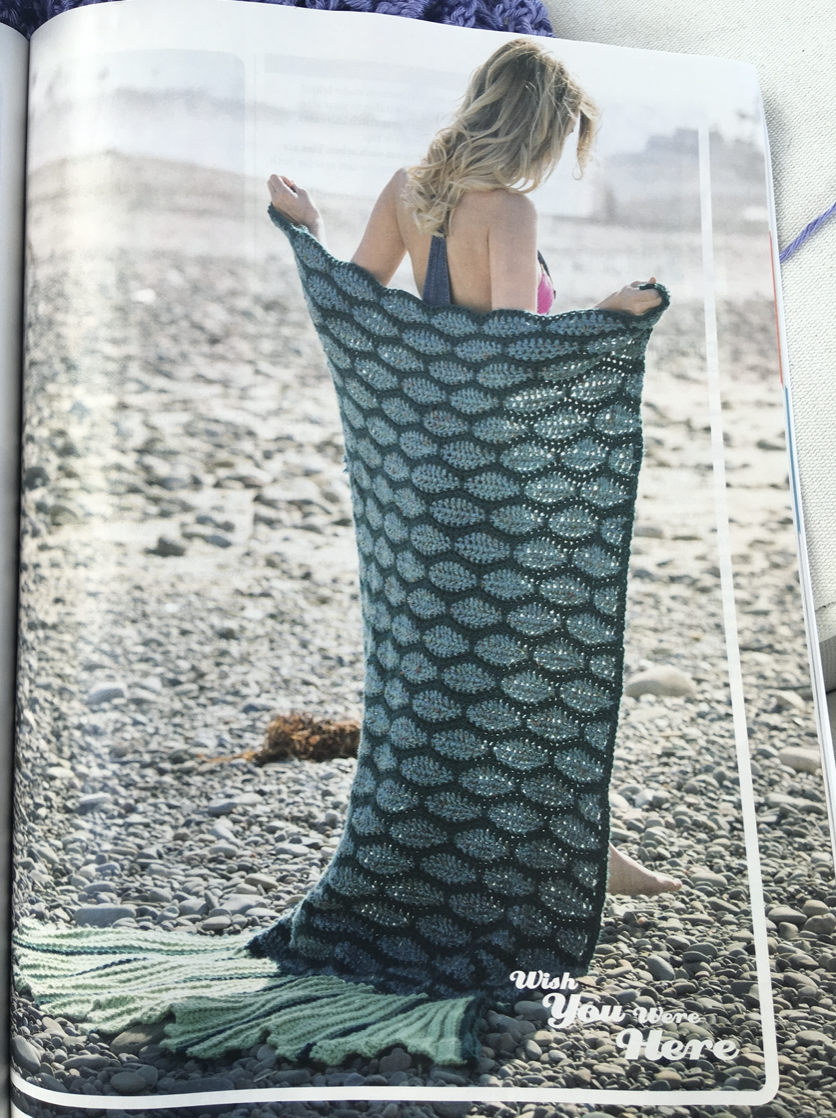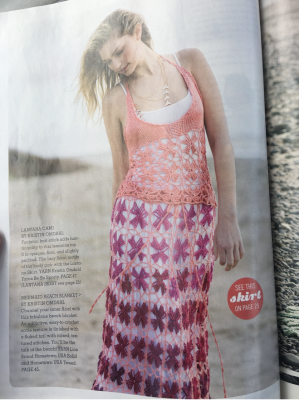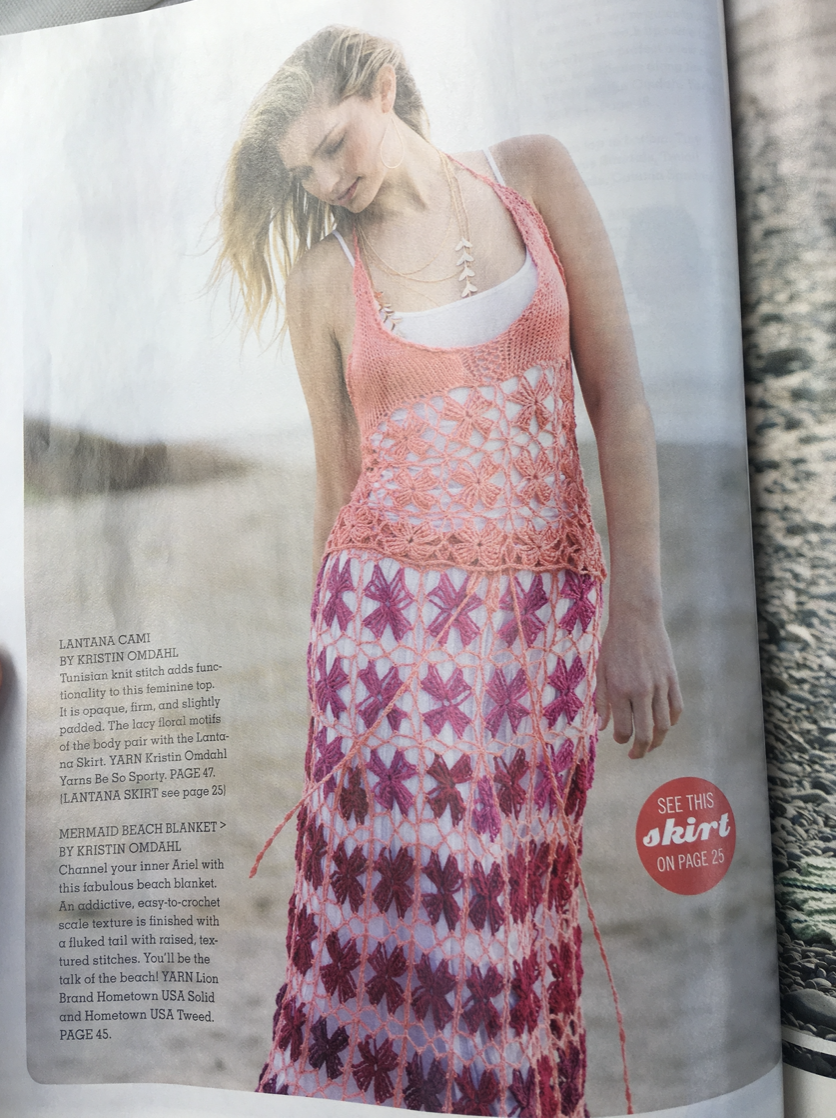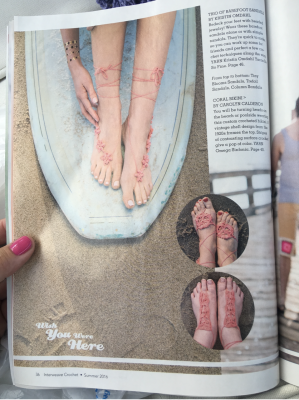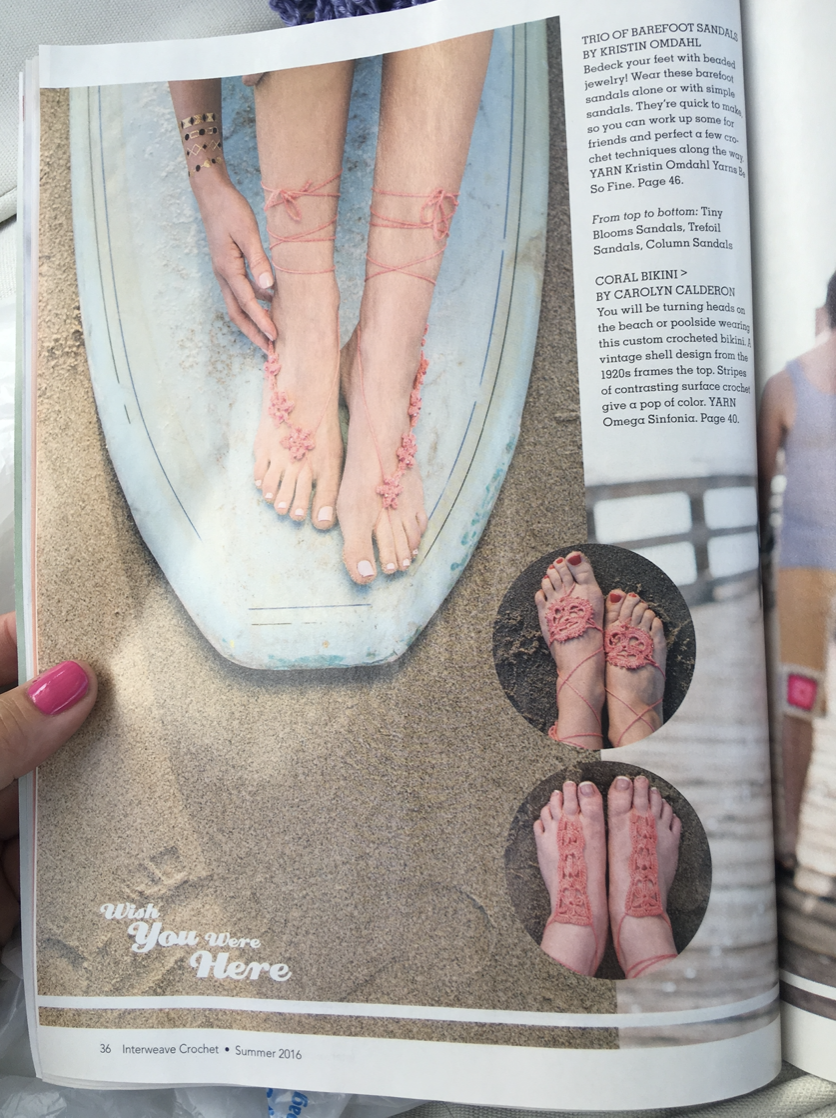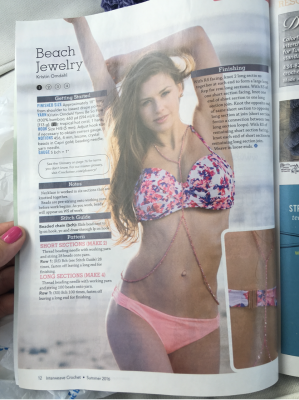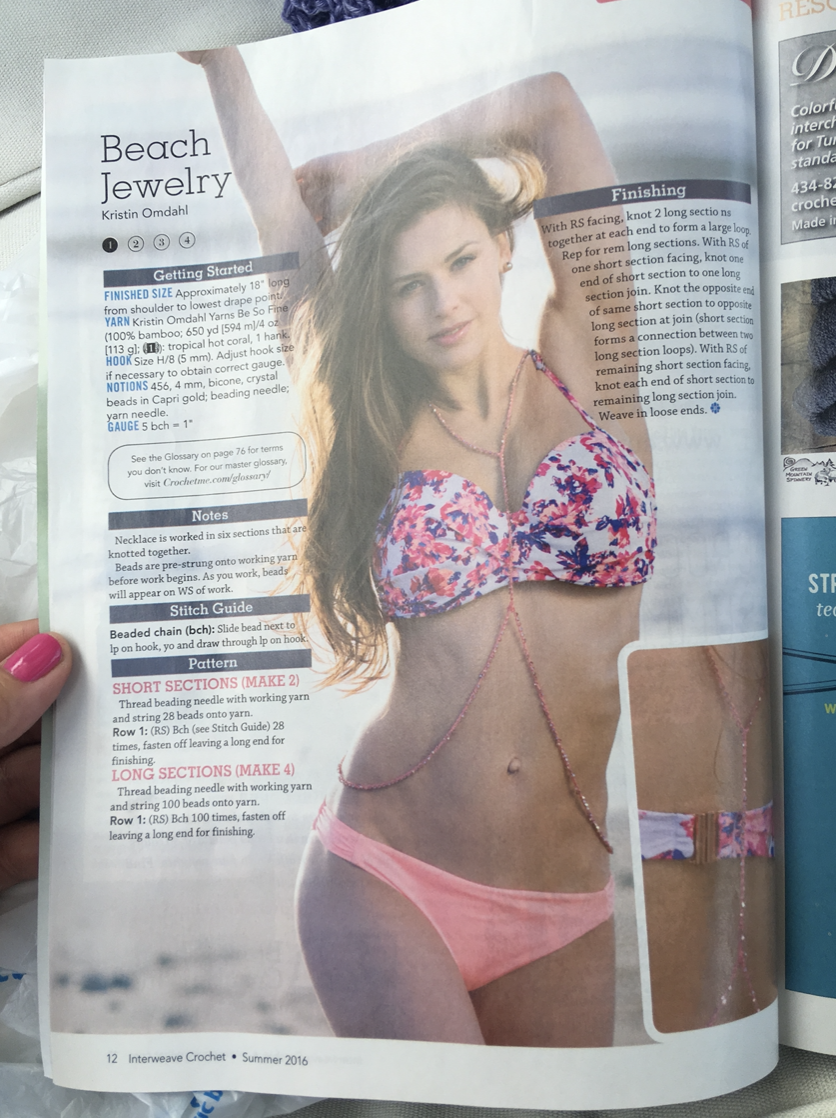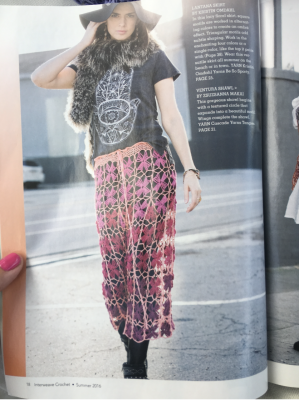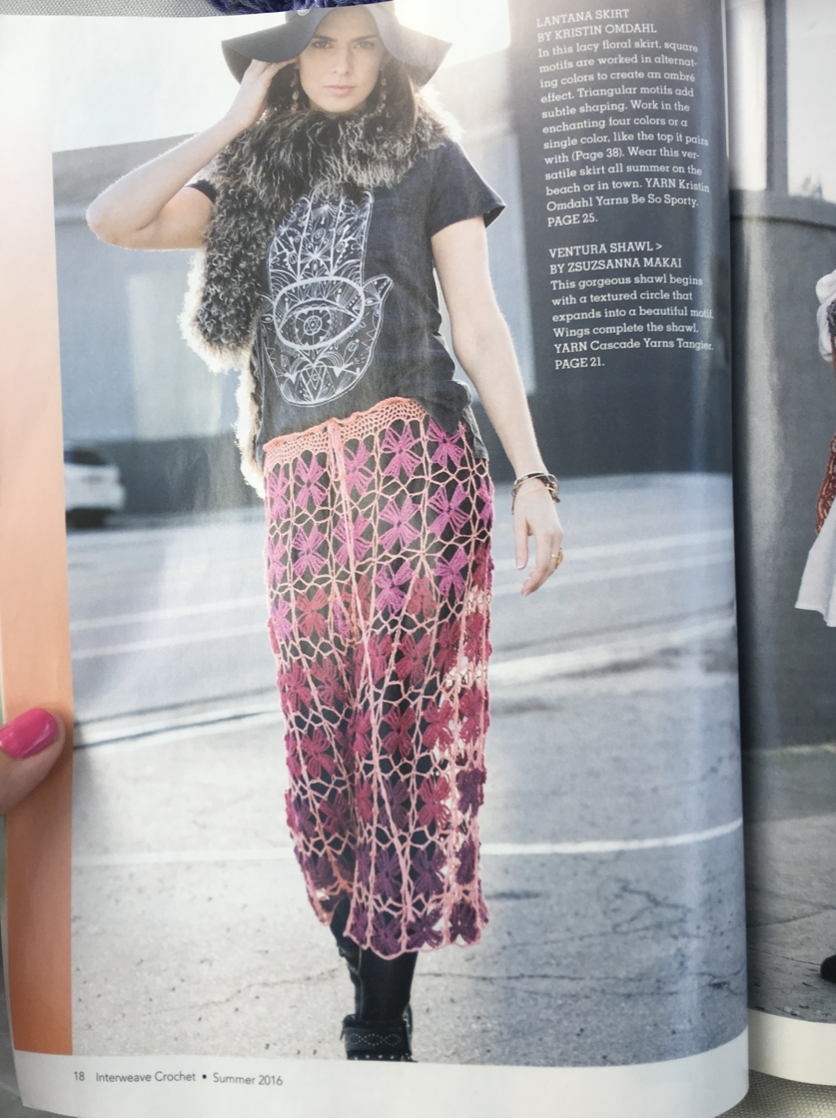 The shawls featured on the back cover are one skein shawl patterns featuring Be So Fine Yarn.
Then, to pull at my heartstrings even more, when I read the first announcement of Project Kristin Cares on said magazine's back cover ad, I did actually spill a few tears. Seeing my charity's name in writing on a magazine cover was very emotional.
Project Kristin Cares launched a month ago, and as I promised, I will be making my first care package to a domestic violence shelter very soon. I'm excited, nervous, humbled and very emotional about this. Thankfully, I never had to stay in a domestic violence shelter. I can't imagine how difficult that must be. I hope my care packages are helpful, and I hope they bring some modicum of peace or hope that life will get better.
I always knew I would give back once I was firmly planted back on my feet. I never questioned the fact that I would be able to help others because of my experience. But now I stand here on the precipice of taking that next step and it feels bigger than I imagined.
Thank to to everyone who is supporting Project Kristin Cares. Every purchase of every product I sell makes a difference. Without you, I would not be doing this.
Thank you from the bottom of my heart.
xoxo, Kristin
Shop Kristin Omdahl Yarns HERE
Shop Kristin Omdahl Crochet Patterns HERE
Shop Kristin Omdahl Knitting Patterns HERE
I would love to see your creations. Just as much fun as making these myself is the satisfaction I get from seeing my designs come to life and other crochet fans wearing them too. There are now 2 ways you can share what you have done!
Share yours by joining  Create. Share. Inspire on Facebook where you can interact with me as well as many other members who have a love of knitting and crochet just like you! It is a wonderful and safe place to share your photos of finished projects in my knitting or crochet patterns or yarns, and to see what others are making, too.
I have recently added a wonderful new interactive section to the website which I invite you to take part in, it has been a smashing success and such fun so far. It is the new "Share a Project" section. You, my creators, can upload images and descriptions of your creations to share with the ever growing community! To upload simply click here. 
Additionally, I host a livestreaming podcast weekday on my YouTube Channel called Create Share Inspire Podcast. You can join the audience and even ask me questions LIVE! I often do a show and tell, or quick demo and I always interact with the live audience. It is a lot of fun!
You can browse through almost 800 previously recorded episodes HERE: Create Share Inspire Podcast Playlist . Make sure to subscribe to my YouTube Channel to get reminders when the next episode airs LIVE.
I look forward to seeing what you create!
xoxo,
Kristin