The 7 Top Tips for Absolute Beginner Crocheters
Not only are these 7 tips great advice for absolute beginner crocheters, but they are also great practices to be mindful of when you are learning new techniques and also to continue to practice for the lifetime of your crocheting adventures. Being organized, and consistent with your practice is great advice for any crocheter. And learning to care for your yarn and finished projects is the key to being able to love your yarn for a lifetime.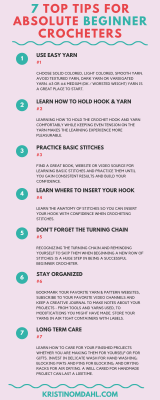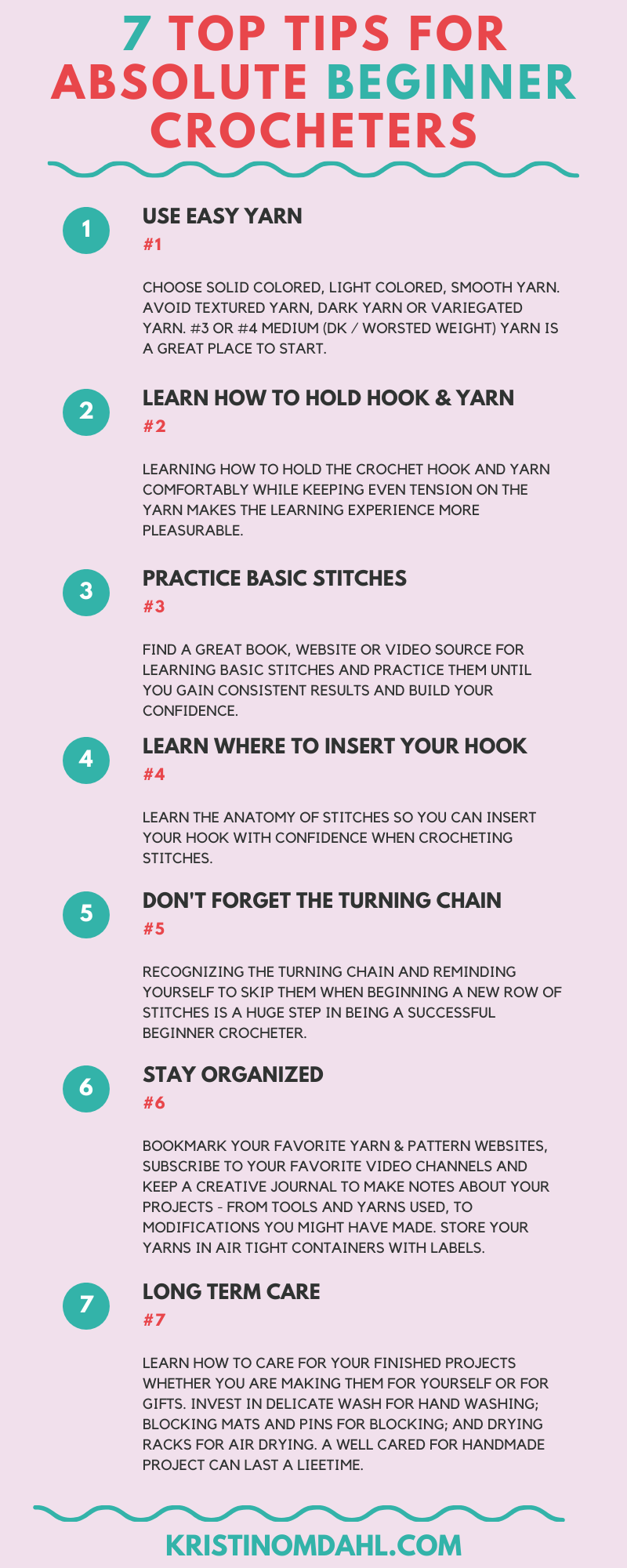 1: Use Easy Yarn
CHOOSE SOLID COLORED, LIGHT COLORED, SMOOTH YARN. AVOID TEXTURED YARN, DARK YARN OR VARIEGATED YARN. #3 OR #4 MEDIUM (DK / WORSTED WEIGHT) YARN IS A GREAT PLACE TO START.
2: Learn How to Hold Hook & Yarn
LEARNING HOW TO HOLD THE CROCHET HOOK AND YARN COMFORTABLY WHILE KEEPING EVEN TENSION ON THE YARN MAKES THE LEARNING EXPERIENCE MORE PLEASURABLE.
3: Practice Basic Stitches
FIND A GREAT BOOK, WEBSITE OR VIDEO SOURCE FOR LEARNING BASIC STITCHES AND PRACTICE THEM UNTIL YOU GAIN CONSISTENT RESULTS AND BUILD YOUR CONFIDENCE.
4: Learn Where To Insert Your Hook
LEARN THE ANATOMY OF STITCHES SO YOU CAN INSERT YOUR HOOK WITH CONFIDENCE WHEN CROCHETING STITCHES
5: Don't Forget the Turning Chain
RECOGNIZING THE TURNING CHAIN AND REMINDING YOURSELF TO SKIP THEM WHEN BEGINNING A NEW ROW OF STITCHES IS A HUGE STEP IN BEING A SUCCESSFUL BEGINNER CROCHETER.
6: Stay Organized
BOOKMARK YOUR FAVORITE YARN & PATTERN WEBSITES, SUBSCRIBE TO YOUR FAVORITE VIDEO CHANNELS AND KEEP A CREATIVE JOURNAL TO MAKE NOTES ABOUT YOUR PROJECTS – FROM TOOLS AND YARNS USED, TO MODIFICATIONS YOU MIGHT HVE MADE. STORE YOUR YARNS IN AIR TIGHT CONTAINERS WITH LABELS.
7: Long Term Care
LEARN HOW TO CARE FOR YOUR YOUR FINISHED PROJECTS WHETHER YOU ARE MAKING THEM FOR YOURSELF OR FOR GIFTS. INVEST IN DELICATE WASH FOR HAND WASHING; AND BLOCKING MATS AND PINS FOR BLOCKING; AND/OR DRYING RACKS FOR AIR DRYING. A WELL CARED FOR HANDMADE PROJECT CAN LAST A LIFETIME.
Shop Kristin Omdahl Yarns HERE
Shop Kristin Omdahl Crochet Patterns HERE
Shop Kristin Omdahl Knitting Patterns HERE
I would love to see your creations. Just as much fun as making these myself is the satisfaction I get from seeing my designs come to life and other crochet fans wearing them too. There are now 2 ways you can share what you have done!
Share yours by joining  Create. Share. Inspire on Facebook where you can interact with me as well as many other members who have a love of knitting and crochet just like you! It is a wonderful and safe place to share your photos of finished projects in my knitting or crochet patterns or yarns, and to see what others are making, too.
I have recently added a wonderful new interactive section to the website which I invite you to take part in, it has been a smashing success and such fun so far. It is the new "Share Your Project" section. You, my creators, can upload images and descriptions of your creations to share with the ever growing community! To upload simply click here. 
Additionally, I host a livestreaming podcast weekday on my YouTube Channel called Create Share Inspire Podcast. You can join the audience and even ask me questions LIVE! I often do a show and tell, or quick demo and I always interact with the live audience. It is a lot of fun!
You can browse through close to 1000 previously recorded episodes HERE: Create Share Inspire Podcast Playlist . Make sure to subscribe to my YouTube Channel to get reminders when the next episode airs LIVE.
I look forward to seeing what you create!
Kristin donates a portion of every sale to her charity Project Kristin Cares, which supports survivors of domestic violence. Learn more at KristinOmdahl.com/PKC 
xoxo,
Kristin