The right color on a person can brighten up their entire persona, and conversely the wrong color can wash them out and make them look far less vibrant than they actually may be. Color can set the tone for your mood, express how you are feeling, and even lend comfort on bad days.
---
Every color in the rainbow and beyond has its own unique signature vibrationally and visually.
Reds – are known for being intense, passionate, associated with love, strength, and power.
Oranges – are equally powerful but in a more subtle way. Orange is attention grabbing, daring, bold, sassy, eye catching.
Yellows – are bright, happy, cheery, uplifting, energetic, and joyous.
Greens – are more down to earth, grounded, healing, peaceful.
Blues – are tranquility, serenity, calm, beautiful, and associated with grace.
Purples, Violets, and Indigo – are marks of royalty, regality, sensual, and sensational.
Pastels – are more muted and calm versions of all of the above, they are softer, and give a more approachable feel.
Jewel tones – get you noticed. They are vivid and bright and bold.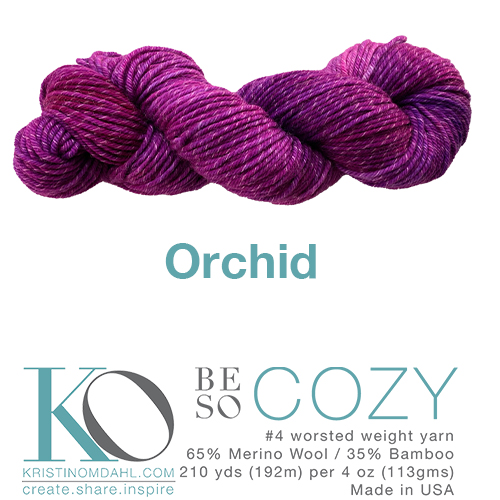 What is your color palette?
Unsure? Go open your closet and see at first glance what you have in there. Then ask yourself "what do I actually enjoy wearing?" Many of us don't think a lot about color but 2021 is a great year to express yourself though the use of color in your wardrobe.
That is the beauty of creating your own piece with my knit and crochet patterns and yarns. You are in control. You are your own designer!  Choose your pattern and choose your yarn. What you create is an extension of who you are.
It is a wonderful feeling to express yourself so the whole world can see.
Get started today. Click the menu links above!
Need more guidance? I am here for you!
I host a livestreaming podcast weekday on my YouTube Channel called Create Share Inspire Podcast. You can join the audience and even ask me questions LIVE! I often do a show and tell, or quick demo and I always interact with the live audience. It is a lot of fun!
You can browse through almost 800 previously recorded episodes HERE: Create Share Inspire Podcast Playlist . Make sure to subscribe to my YouTube Channel to get reminders when the next episode airs LIVE.
Want more interaction? I am happy to invite you to join our private group Create. Share. Inspire on Facebook where you can interact with me as well as many other members who have a love of knitting and crochet just like you! It is a wonderful and safe place to share your photos of finished projects in my knitting or crochet patterns or yarns, and to see what others are making, too.
Don't be intimidated – even the more advanced patterns are done stitch by stitch and I have videos that you can play and stop and review at your own speed until you are comfortable and get them right. You have the capacity to create anything you choose if you just spend a little time and give it your attention.