Most people think of their wardrobe broken down into two parts – summer wear and winter wear – even here in Florida. That is why I have decided to focus today on the Zoe Cowl Knit. This wonderful little showstopper is a between season item.
It can be worn with short or long sleeves, with a jacket, a dress, a tank top (as pictured), it dresses up an out fit and warms you at the same time. We are mid-March approaching April and as the weather warms it can still be chilly at night. Its lovely to have something in your handbag to just toss on that isn't a full jacket or sweater, as that can be overkill.
This pattern is available as a stand alone but is also featured in "Layers: 19 Knit Projects to Fit, Flatter, and Drape".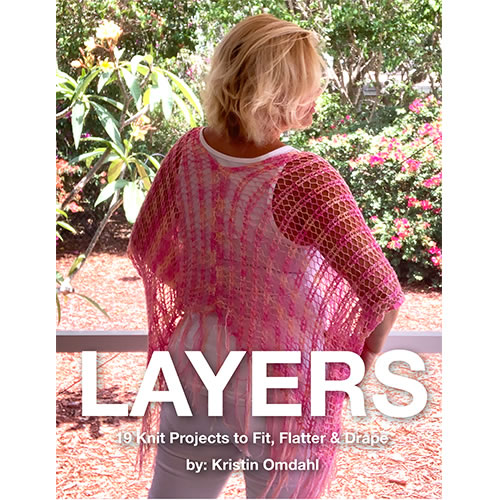 Need more guidance? I am here for you!
I host a livestreaming podcast weekday on my YouTube Channel called Create Share Inspire Podcast. You can join the audience and even ask me questions LIVE! I often do a show and tell, or quick demo and I always interact with the live audience. It is a lot of fun!
You can browse through almost 800 previously recorded episodes HERE: Create Share Inspire Podcast Playlist . Make sure to subscribe to my YouTube Channel to get reminders when the next episode airs LIVE.
Want more interaction? I am happy to invite you to join our private group Create. Share. Inspire on Facebook where you can interact with me as well as many other members who have a love of knitting and crochet just like you! It is a wonderful and safe place to share your photos of finished projects in my knitting or crochet patterns or yarns, and to see what others are making, too.
Don't be intimidated – even the more advanced patterns are done stitch by stitch and I have videos that you can play and stop and review at your own speed until you are comfortable and get them right. You have the capacity to create anything you choose if you just spend a little time and give it your attention.
I have recently added a wonderful new interactive section to the website which I invite you to take part in, it has been a smashing success and such fun so far. It is the new "Share a Project" section. You, my creators, can upload images and descriptions of your creations to share with the ever growing community! To upload simply click here. 
Thank you for stopping by today!
Kristin