That is the goal of knit and crochet wear and accessories. Yarn is an amazing textile. It is durable, soft, feels great against your skin, and comes in a huge array of beautiful colors that can brighten any day and lift any mood.
We all know and appreciate that feeling of coming home after a long day and slipping out of dressier clothing into your favorite most comfortable items. But even better, many of my patterns are designed so that you can still feel that way while out and about and looking stylish and fabulous. Comfy does not have to just mean sweatpants anymore!
As you make your own creations out of the patterns and yarn you can choose to pick a fluffy soft yarn and crochet or knit the pattern with a little wiggle room for extra comfort. Style does not have to be constrictive. Comfortable is the new chic in 2021.
That is why this is the perfect time to learn to knit or crochet if you don't already have these skills under your belt. They are relaxing, satisfying, and your result is that you have a wardrobe unlike anyone else. There is no running into someone and having the same outfit.
I get compliments regularly from strangers on the patterns I create, and wear and I am told the same thing by those who send in and submit their projects to the site. Its exciting for me to hear and I absolutely love seeing what you all come up with. Everyone puts their own new twist on what would normally be the same pattern. Its inventive, creative, and just plain fun.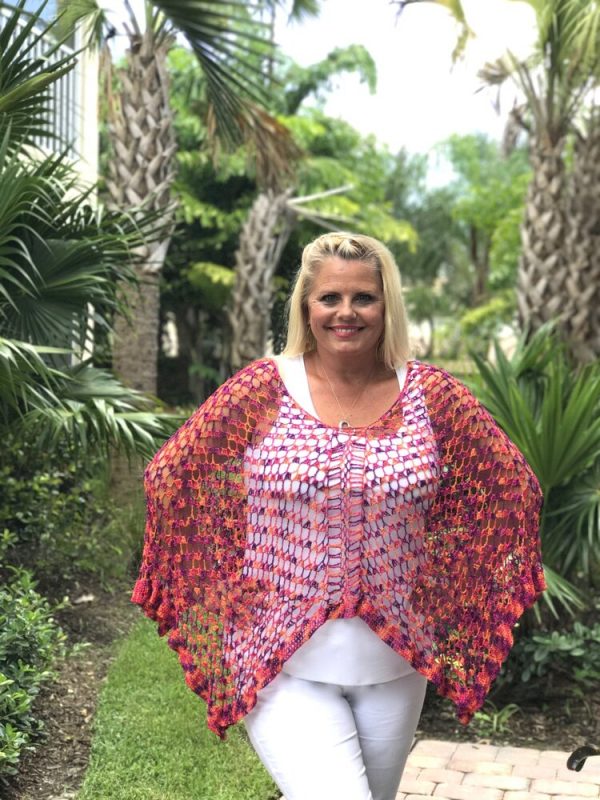 No matter what level you are currently at… from novice (someone who has only dabbled or maybe never even picked up a knitting needle and are just learning their first stitch) to expert (someone who can whip up whatever they so choose in short order) this site has something for everyone.
Interested to learn more about knit or crochet? – That is exactly why I created my interactive online channels! Join me! I would love to have you.
I host a livestream podcast Monday – Friday on my YouTube Channel called Create Share Inspire Podcast. You can join the audience LIVE and even ask me questions LIVE! I often do a show and tell, or quick demo and I always interact with the live audience. It is a lot of fun!
You can browse through almost 800 previously recorded episodes HERE: Create Share Inspire Podcast Playlist . Make sure to subscribe to my YouTube Channel to get reminders when the next episode airs LIVE. I also created a private Facebook group called Create Share Inspire to allow my audience to continue the podcast party throughout the rest of the day. It is a wonderful and safe place to share your photos of finished projects in my knitting or crochet patterns or yarns, and to see what others are making, too.
We have added a new section called Share Your Project. All you must do is click, add your info, any background story including who you made it for, why, how you will wear it, anything you want to share about the garment or your experience, and click submit!
I look forward to seeing what you create!
Kristin