Behind the Scenes of Filming Knit and Crochet Now, Season 12 by Kristin Omdahl
It truly takes a village to produce a television show!
There are so many different professional jobs from makeup artist, to videographer, to content editor, director, producer and so many more important people in between!
A Season Begins with a Plan
My job begins when the producer maps out the content for the season and assigns the various projects to different cast members. I then create a proposal of what I think I would like to teach from the given patterns and what I think I can realistically accomplish in 10 minutes of film, broken down step by step. Then the producer either approves or amends my proposal and then I order yarn for my step outs. Step outs are the partially completed projects, at whatever stage in the pattern, I need to show at a specific step. It is suggested that I order mainstream yarn for my step outs and it gives me great pleasure to order Vanna's Choice since I've been a Vanna White fan my whole life! Did you see my interview with Vanna White last year? Gosh, it was such an honor. You can watch it here:
Kristin Omdahl Interviews Vanna White here: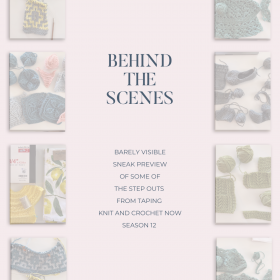 Once I finish my step outs, I weave in all the loose ends, steam the pieces nice and flat, and photograph them to send to producers for final approval before organizing them for travel. Once approved, I organize the step outs in labeled bags within bags to keep everything extremely organized. Then I extract all of the detailed information I need from each section of the patterns for the specific step outs. For example, if I am showing a special post stitch decrease in round 4 of a motif, I copy and paste that specific line of the pattern onto a separate document and blow it up huge. Then it gets printed on heavy card stock, like a big index card. The reason we use card stock is because it makes very little noise on camera. Also, if it has to be seen on camera (like to feature a chart as I work), it has no wrinkles either. It takes some finessing to get all of this into a bag that is small enough for an airplane carry on, but doesn't compromise the work! I usually put my card stock notes in a heavy folder so they don't bend. Then I remove as much air as possible out of the baggies so the step outs can fit into a bag that will fit underneath my seat on the airplanes. I never pay for premium boarding, so by the time I board the plane, the overhead compartments are always full. And if my bag doesn't fit underneath the seats, I would be forced to check the bag. And I absolutely cannot risk it getting lost.
Next I work on my wardrobe. I pack a unique outfit for every segment I will be filming at the studio. This season, I filmed 9 segments so I brought 9 outfits! For fun, I shopped several of my outfits from Amazon so you can buy them as well, if you like any of my outfits. You can see what I bought
HERE
The general rules for filming for TV (PBS specifically) are modest coverage of cleavage and upper arms; no small prints; and preferably jewel toned colors in large prints or solid fabrics.
Meeting The Entire Crew
Once I travel to the studio location (2 plane rides and a rental car), I am greeted very warmly by everyone at the studio. There are so many people involved on a TV crew and each job is so important! Many of the crew do multiple jobs, too! But the best part is how kind, helpful and team-oriented everyone is on the set. I always like to swap make up tips with the professional make up artist, and this time was no exception! I learned about new techniques for coloring in my graying and thinning eyebrows (eyeshadow, not eyebrow pencil) and she showed me how to blend eye cream with concealer for a super moisturized under eye look! For someone with aging skin and dark circles, this was a very exciting tip, indeed! I also got to hear amazing stories, personally and professionally, from so many sweet people on the team.
Working Together as a Team
When on set, I wear an ear piece so I can communicate with the producer and director (without it being heard on camera) and I wear a battery pack microphone. Unfortunately I struggled so much with the ear piece fitting me on this trip, that eventually we slapped tape across the back of my neck to keep it from falling out. It was kind of funny, but I loved how MacGyver-like the crew and I figured out "how to make it work".
Looking Forward to Watching Season 12 of Knit and Crochet Now!
Now that I finished my part on the show, the real magic begins. And we can all enjoy this master team of talent when the 12th season of Knit and Crochet Now debuts sometime late summer or early fall 2021. I'll be sure to let you know when I hear more detailed information. It will be available in select PBS stations first, then it will show up on Create Channel, too. Check your local listings for this exciting new season 12! Watch it LIVE or on demand with your service provider. And you can always download the individual episodes or the full season at
Annies
.