Kristin's Jocasta Plant Hanger Crochet Pattern Projects featuring Be So Airy Yarn
made by: Kristin Omdahl
Pattern: Jocasta Crochet Plant Hanger Pattern
Yarn: Be So Airy Yarn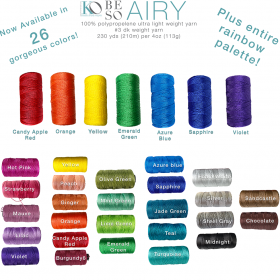 SO Exciting when I can combine my love of plants with my love of yarn! This is the Jocasta crochet plant hanger pattern in Be So Airy Yarn with H/8 (5mm) hook in the new rainbow colors: candy apple red, orange, yellow, emerald green, azure blue, sapphire blue and violet. These hangers are holding the newest additions to my orchid family: several colors and varieties of special sun-loving vanda orchids. They will flower in assorted colors and some will be fragrant, too! I've been nursing these babies on the lanai for a few weeks to help them transition from transplant to pot and now to full sun where they belong. Aren't they beautiful? And whether they are flowering or not, they will always be celebrated in color with these adorable handmade crochet plant hangers.
Browse more Share a Projects HERE
Submit your own Share a Project HERE
The original Jocasta Crochet Plant Hanger pattern features Be So Easy Yarn in color Cyan. This yarn is well suited for indoor use and whips up super quick in #5 bulky weight yarn. I used Be So Airy Yarn for the outdoor plant hangers because this yarn is well suited for the harsher conditions of being outdoors.
The family of Kristin Omdahl Yarns are 100% thoughtfully sourced and 100% gorgeous. All of Kristin Omdahl Yarns are supported with professional, well written and beautiful knit and crochet patterns, many of which are supported with supplemental tutorial videos, too. Browse other quality Kristin Omdahl products including tools, books, and so much more in the Store.
A portion of every sale funds Kristin's charity Project Kristin Cares, helping people affected by domestic violence.