The Yarn Color Guide by Kristin Omdahl
28 gorgeous 5-color palettes curated by Kristin Omdahl in Be So Baby Yarn
Be So Baby Yarn is a #3 dk weight yarn that comes in 60 gorgeous colors. This is a wonderful range of colors that can be combined in unlimited combinations to make so many different kinds of knitting, crochet, weaving and other crafting projects.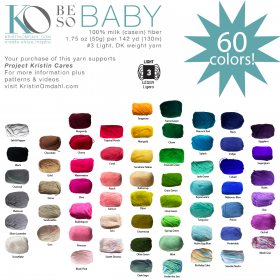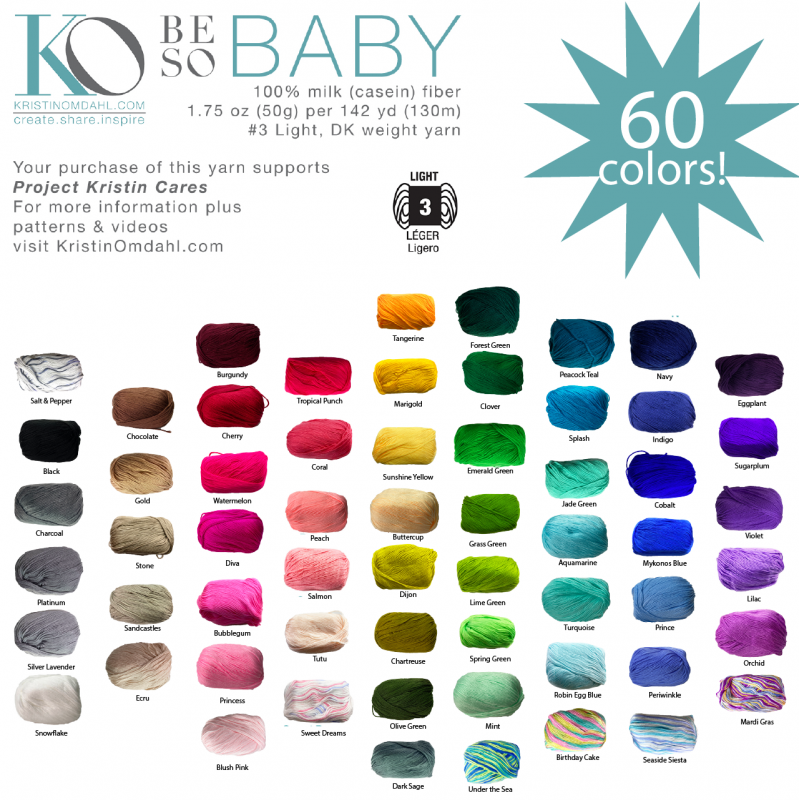 Mixing and matching colors can be really fun, but sometimes it can be overwhelming, too. The colorcard of all 60 colors of Be So Baby Yarn (to the right) is organized by color family in columns. If you are looking to combine tonal colors, these columns are very helpful. There is a column from left to right for: cool neutrals, warm neutrals, pinks/reds, oranges/corals/peaches, yellows to yellow-greens, greens, blue-greens, blues, and purples. You can also combine rainbow palettes with these colors in a variety of ways including pastel rainbow, primary rainbow, neon rainbow and more. You can also use a color wheel to combine colors. Choose colors opposite the colorwheel for complementary colors; or choose split complementary, triad or tetrad combinations with the color theory suggestions on the color wheel. I like this color wheel HERE.
When I feel overwhelmed or confused by color choices, I like turn to nature for inspiration. Below are 28 different 5-color palettes curated by me (Kristin Omdahl) to suggest some different color combinations for you. Perhaps this will inspire you to make a colorwork project!
You can purchase a 5-color kit on sale for $19.99 HERE
But if you would like to combine different quantities of each color for larger projects, you can shop Be So Baby Yarn for $3.99 per ball plus bulk discounts HERE
Browse #3 dk weight crochet patterns HERE
Browse #3 dk weight knitting patterns HERE
Browse #3 dk weight tutorial videos HERE
Please reference these curated color combinations in photos below:
Beach #1: Blush Pink, Salmon, Sandcastle, Peacock Teal, Turquoise
Beach #2: Silver Lavender, Ecru, Platinum Stone, Snowflake
Beach #3: Silver Lavender, Orchid, Aquamarine, Splash, Indigo
Beach #4: Peacock Teal, Dark Sage, Gold, Lime Green, Grass Green
Beach #5: Navy, Indigo, Splash, Aquamarine, Snowflake
Beach #6: Aquamarine, Turquoise, Robin Egg Blue, Snowflake, Silver Lavender
Bird #1: Peacock Teal, Splash, Robin Egg Blue, Peach, Coral
Fruit #1: Princess, Burgundy, Cherry, Salmon, Gold
Fruit #2: Bubblegum, Princess, Lilac, Mint, Prince
Landscape #1: Eggplant, Violet, Peach, Coral, Burgundy
Landscape #2: Marigold, Chocolate, Gold, Tangerine, Burgundy
Landscape #3: Lime, Grass, Olive, Forest, Chocolate
Landscape #4: Periwinkle, Navy, Violet, Prince, Indigo
Landscape #5: Silver Lavender, Platinum, Dark Sage, Olive Green, Forest Green
Landscape #6: Blush Pink, Salmon, Coral, Peacock, Forest Green
Landscape #7: Platinum, Silver Lavender, Snowflake, Ecru, Stone
Floral #1: Snowflake, Gold, Robin Egg Blue, Platinum, Black
Floral #2: Peacock teal, Splash, Silver Lavender, Salmon, Watermelon
Floral #3: Bubblegum, Peach, Buttercup, Turquoise, Jade Green
Floral #4: Coral, Cherry, Burgundy, Jade Green, Forest Green, Chocolate
Floral #5: Eggplant, Watermelon, Bubblegum, Lilac, Violet
Floral #6: Cherry, Peach, Mint, Grass, Black
Floral #7: Aquamarine, Robin Egg Blue, Snowflake, Silver Lavender, Platinum
Floral #8: Navy, Indigo, Sunshine Yellow, Lime Green, Snowflake
Reef #1: Chocolate, Ecru, Peacock Teal, Turquoise, Aquamarine
Reef #2 Splash, Turquoise, Coral, Peach, Sunshine Yellow 
Reef #3: Lilac, Sugar Plum, Indigo, Sunshine Yellow, Lime Green
Tiles #1: Turquoise, Gold, Salmon, Prince, Indigo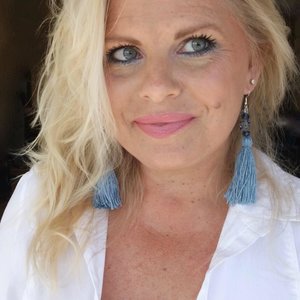 Kristin Omdahl is the best-selling author of dozens of knit and crochet books; publisher of almost 1000 knit and crochet patterns; producer of award-winning videos; and curator of gorgeous yarns and products. You can join Kristin LIVE 5 days a week for The Kristin Omdahl Show on YouTube and browse through thousands of tutorial videos there, too.
Shop Kristin Omdahl Yarns HERE
Shop Kristin Omdahl Crochet Patterns HERE
Shop Kristin Omdahl Knitting Patterns HERE
I would love to see your creations. Just as much fun as making these myself is the satisfaction I get from seeing my designs come to life and other knit and crochet fans wearing them too. There are now 2 ways you can share what you have done!
I have recently added a wonderful new interactive section to the website which I invite you to take part in, it has been a smashing success and such fun so far. It is the new "Share Your Project" section. You, my creators, can upload images and descriptions of your creations to share with the ever growing community! To upload simply click here. 
Additionally, I host a livestreaming podcast, vlog or show weekday on my YouTube Channel called The Kristin Omdahl Show. You can join the audience and even ask me questions LIVE! I often do a show and tell, or quick demo and I always interact with the live audience. It is a lot of fun!
You can browse through close to 1000 previously recorded episodes HERE: The Kristin Omdahl Show Playlist. Make sure to subscribe to my YouTube Channel to get reminders when the next episode airs LIVE.
I look forward to seeing what you create!
Kristin donates a portion of every sale to her charity Project Kristin Cares, which supports survivors of domestic violence. Learn more at KristinOmdahl.com/PKC
xoxo,
Kristin
Kristin Omdahl Recipes HERE