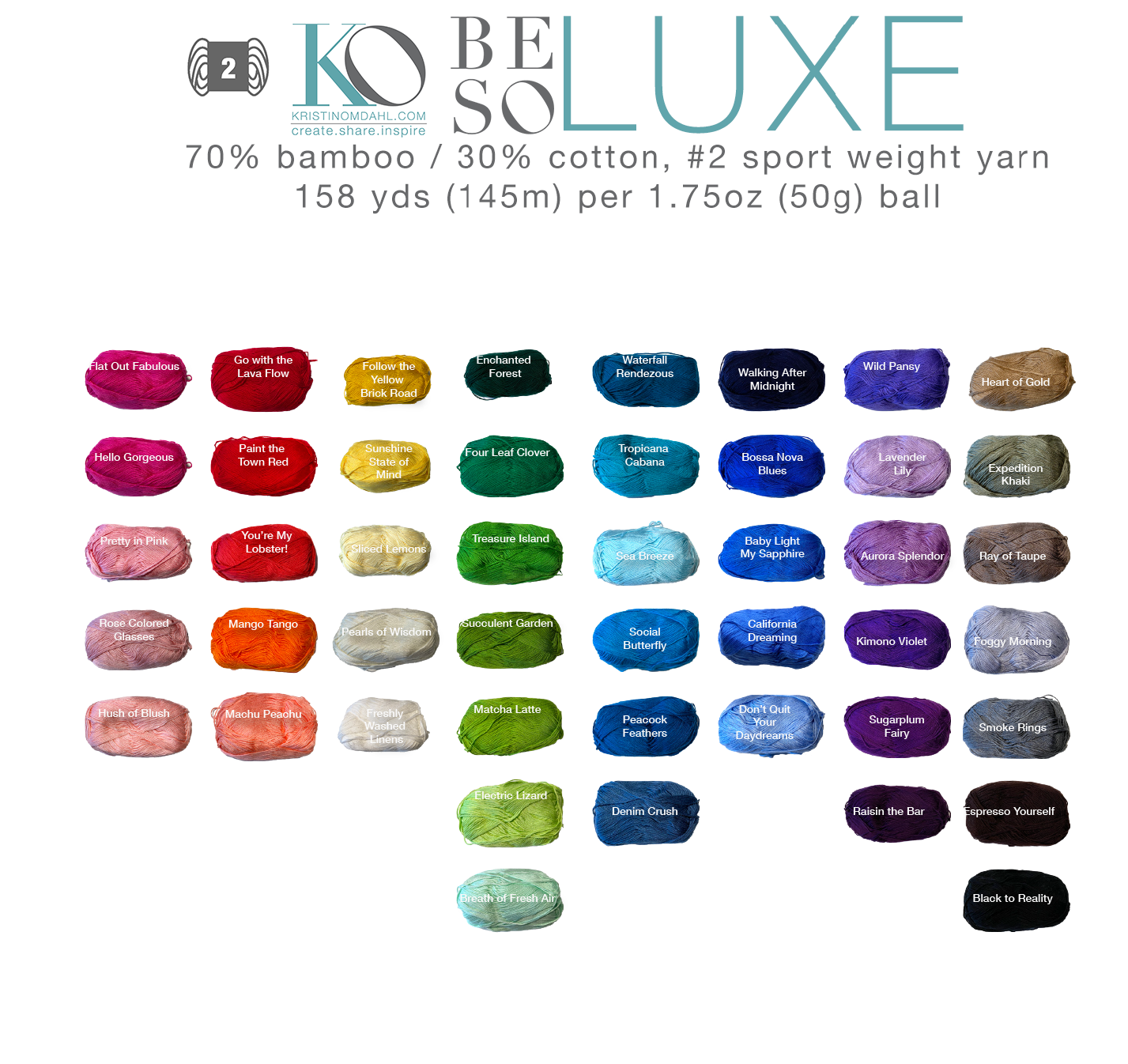 Announcing Be So Luxe Yarn
Be So Luxe Yarn is 70% bamboo / 30% cotton #2 sport weight yarn. It comes in 158 yds (145m) per 1.75 oz (50g) balls. This yarn is super soft, with a lustrous shine and incredible drape. This gorgeous yarn is available in 46 colors! Be So Luxe Yarn can be used in any #2 sport weight yarn knit, crochet or weaving patterns. Mix and match these gorgeous colors for only $5.99 per ball plus enjoy bulk discounts up to 30%! Shop HERE
You can substitute Be So Luxe Yarn for any of my #2 sport weight yarn knitting or crochet patterns, just be sure you pay attention to the yardage requirements of any given pattern. When substituting any yarn, it is important to do a gauge swatch, block it and measure it. See if the measurements match your intended pattern and make sure you like the drape and feel of the fabric.
I knit and crocheted gauge swatches for some of my most popular patterns featuring #2 sport weight yarns so you can see how each project would look in Be So Luxe Yarn.
With a 46 color palette, colorwork can be a dream with Be So Luxe Yarn, too. You can easily combine tonal colors from any of the color families (see colorcard above): columns from left to right: Pink/Red, Red/Orange, Yellows, Greens, Blue/Greens, Blues, Purples and Neutrals.
Or you can experiment with color theory for unlimited variations of gorgeous colorwork. Here are some nature inspired color palettes I curated for your consideration: