Knit and Crochet Now! Season 12 Now Available with 13 Episodes
Knit and Crochet Now! Season 12 can be seen on PBS and Create TV stations nationwide and new markets are being added to the schedule all the time. Broadcast schedules vary and change often, so check your local listings or the website of your local PBS or Create TV station for more up-to-date schedules. You can also order a boxed DVD set HERE or stream episodes online HERE
Each PBS station decides independently which programs it will air. If you are not receiving Knit and Crochet Now! Season 12 through your local station we encourage you to call, write or contact your local PBS station and let them know you want to see the show in your area. You, our viewer, have a powerful voice where PBS programming decisions are concerned and we appreciate your advocacy and influence on our behalf.
Knit and Crochet Now! Season 13 is Available Worldwide Now! Learn more HERE
Details of every episode of Knit and Crochet Now! Season 12
Knit and Crochet Now! Season 12, Episode 1: Gansey Lace Pullovers
First up is Toni Lipsey and the elegant and textural Samsara Lace pullover. Then it's the first Learn a Stitch Scarves lesson with Lena Skvagerson, featuring the Carnelian Stripe Crochet Scarf made with a super- easy granny stitch. We end with the gorgeous Monsoon knit pullover demonstrated by Britt Schmiesing.
Season 12, Episode 2: Tiered Tunics
Kristin Omdahl begins with the crocheted Paradiso Tunic, a fun and flirty top with a baby doll silhouette. Then it's time for a bold chevron design in the Learn a Stitch Scarf corner with Lena and the Powder Mountain Knit Scarf. Britt finishes up with the Nebesa Knit Tunic, made using The Grand Eyelet Stitch.
Season 12, Episode 3: Pullover Ponchos
Ponchos make the perfect cold weather layering piece! We begin with Toni and the luxurious and eye-catching crocheted Moonglade Poncho. Next is intricate cable work in todays stitch corner with Lena and the Crazy for Cables Scarf. Britt is back with the Forevermore Poncho, a flowing poncho of mixed textures.
Season 12, Episode 4: Pocket Shawls
First up is the Texture Message Pocket Shawl. Kristin shows an interesting linear texture using a combination of post stitches and ribbing. Then join Lena in the stitch corner for the Leaf of Life Knit Scarf, a great project for the novice lace knitter. Finally, Britt returns with the easy-to-knit, warm and cozy Readers Wrap Knit Shawl.
Knit and Crochet Now! Season 12, Episode 5: Baby Napper Blankets
Its naptime for the little ones and we begin with the Diamond Filet Crochet Blanket with Toni. Diamonds and bobbles are a crocheter's best friend! Then join Lena to add checkerboard to your arsenal of crochet stitches making the Smokey Moon Crochet Scarf. Finally, Britt is back with the Knit Lofty Lacy Baby Blanket, an easy-to-memorize and fun-to-work lace pattern.
Season 12, Episode 6: Mukluk Boots
Kristin starts us off with Mukluk Crochet Boots, an eye-catching combination of laces, bobbles and tassels combine into one amazing design. Up next is the Solitude Lace Knit Scarf with Lena in our stitch corner. Then it's time for the knit version of our mukluk boots with Kristin, using just basic knit and purl stitches and chunky yarn!
Season 12, Episode 7: Cozy Comfy Shrugs
First is the Cabernet Shrug with Toni. If you can crochet a rectangle, you can craft this oversized cozy shrug! Then Lena is in the stitch corner with the November Lights Scarf, an easy 4-row repeat lace pattern super easy to stitch. The show ends with the Fillory Knit Shrug where Britt will teach you many new skills!
Season 12, Episode 8: Towel Toppers
Add a handy hanging dish towel dress to your farmhouse kitchen. Up first is Kristin and the big on style crochet Gansey Towel Topper. Then it's a colorful and rhythmic mosaic chevron pattern with Lena and the Alta Mosaic Knit Scarf. We finish up with a knit version of the Gansey Towel Topper with Britt. Farmhouse fresh, it's the perfect gift!
Season 12, Episode 9: Mosaic Afghans
With mosaic crochet you only work one color per row, no worries about switching colors mid-row! With the Greek Key Mosaic Crochet Blanket Toni shows you how to create this graphic design. Then it's a basic beginner mosaic stitch pattern from Lena in the stitch corner and the Marvel Mosaic crochet scarf. We end with another mosaic design, the fascinating Mosaic Diamonds Knit Blanket presented by Kristin.
Knit and Crochet Now! Season 12, Episode 10: Top-Down Beanies
One of the benefits of constructing top-down beanies is how easy it is to customize to your head! First up is Kristin and the Starry Stripes Crochet Beanie made using the popular star stitch. Lena is next in the stitch corner with the Dream Weaver Knit Scarf. Then Kristin is back with a knit version of the Starry Stripes Crochet Beanie.
Season 12, Episode 11: Pet Couch Covers
As much as we love our pets, they can be messy little creatures from time to time so protect your sofa from pet hair and stains with these handy covers! Toni shows all you need to know to make the Crochet Pet Couch Cover. In the Stitch corner with Lena, it's treble crochet and X-stitches and the Holiday Sparkle Scarf. Last is Britt and the Knit Pet Couch Cover.
Season 12, Episode 11: Triangular Shawls
Looking for a chic way to add a layered look and a little warmth at the same time! First up Kristin demonstrates the magnificent Dorset Embossed Shawl. Then it's rich textures in the stitch corner and today's scarf with Lena, the Sundance Gansey Knit Scarf. Last is Britt and the Nigel Knit Shawl, garter stitch squares and triangles joined as you go.
Season 12, Episode 13: Gnomies are my Homies
Sprinkle cute little gnomes around the house to add cheer to any room. Toni is first with the crochet buffalo plaid Rustic Gnome Ornaments. Then it's the final stitch corner with Lena and the bobble-textured Snowbird Crochet Scarf. Finally, it's Britt and a cute couple, Mr. & Mrs. Gnome making a lovely and inviting addition to your home decor.
This article features details of Knit and Crochet Now! Season 12 but you can get more detailed information about many other seasons HERE
Join me on Patreon HERE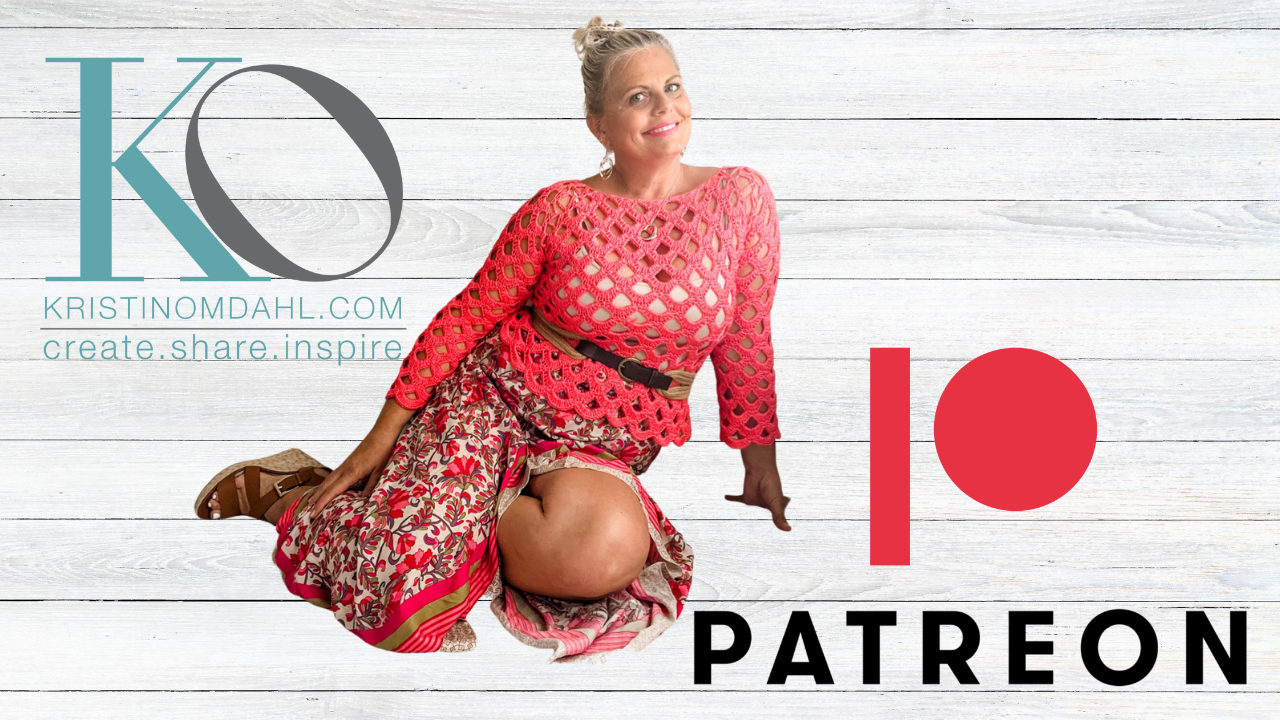 Kristin Omdahl is the best-selling author of dozens of knit and crochet books; designer of almost 1000 knit and crochet patterns; producer of award-winning videos; and curator of gorgeous yarns and products. You can join Kristin LIVE 5 days a week for The Kristin Omdahl Show on YouTube and browse through thousands of tutorial videos there, too. Kristin donates a portion of every sale to help survivors of domestic violence. Learn more about Kristin's charity, Project Kristin Cares HERE.
Shop Kristin Omdahl Crochet Patterns HERE
Shop Kristin Omdahl Knitting Patterns HERE
I would love to see your creations. Just as much fun as making these myself is the satisfaction I get from seeing my designs come to life and other knit and crochet fans wearing them too. There are now 2 ways you can share what you have done!
I have recently added a wonderful new interactive section to the website which I invite you to take part in, it has been a smashing success and such fun so far. It is the new

"Share Your Project" section

. You, my creators, can upload images and descriptions of your creations to share with the ever growing community!

To upload simply click here. 

If you want to continue the party, join the KO Community Forums on my website. It is 100% PRIVATE! You can start or join forum posts, and even direct message others, too. Join the KO Community forums

HERE

 
Additionally, I host a livestreaming podcast, vlog or show weekday on my YouTube Channel called The Kristin Omdahl Show. You can join the audience and even ask me questions LIVE! I often do a show and tell, or quick demo and I always interact with the live audience. It is a lot of fun!
You can browse through over 1000 previously recorded episodes HERE: The Kristin Omdahl Show Playlist. Make sure to subscribe to my YouTube Channel to get reminders when the next episode airs LIVE.
You can also Refer-A-Friend and get rewarded, too! Learn more HERE
I look forward to seeing what you create!
xoxo,
Kristin