Zucchini Apple Mini Loaf Muffins Recipe by Kristin Omdahl
These are quick and easy to prep with minimal ingredients for a healthy snack that tastes so good! They taste like a cross between apple pie, banana bread and chocolate chip cookies. YUM!
What you will need:
1 zucchini, shredded
1 apple, shredded
1 banana, mashed
1 cup flour
1 tsp baking powder
1/3 cup oat milk
1/3 cup brown sugar
1 TBSP cinnamon
1/2 tsp salt
2 tsp vanilla extract
1/3 cup salted and roasted pumpkin seeds (pepitas)
1/3 cup mini semi sweet chocolate chips
1/3 cup raisins or other small dried fruit
What to do:
Preheat oven to 350 degrees.
Mix all ingredients together.
Spray non stick spray into 12 mini loaf muffin pan. I found mine HERE
Divide batter into 12 mini loaf muffin cups.
Bake in oven for 40 – 45 minutes, or until cooked through and golden brown.
Cool before removing from muffin pan.
Store in an air tight container in refrigerator for up to 3 days.
Browse more of Kristin Omdahl Recipes HERE
Leave a comment and let me know if you enjoyed making and eating this recipe, too!
xoxo, Kristin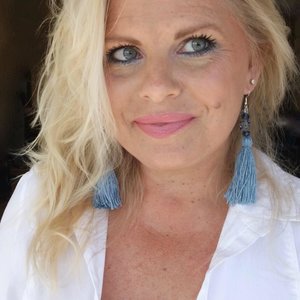 Kristin Omdahl is the best-selling author of dozens of knit and crochet books; publisher of almost 1000 knit and crochet patterns; producer of award-winning videos; and curator of gorgeous yarns and products. You can join Kristin LIVE 5 days a week for The Kristin Omdahl Show on YouTube and browse through thousands of tutorial videos there, too.
Shop Kristin Omdahl Yarns HERE
Shop Kristin Omdahl Crochet Patterns HERE
Shop Kristin Omdahl Knitting Patterns HERE
I would love to see your creations. Just as much fun as making these myself is the satisfaction I get from seeing my designs come to life and other knit and crochet fans wearing them too. There are now 2 ways you can share what you have done!
I have recently added a wonderful new interactive section to the website which I invite you to take part in, it has been a smashing success and such fun so far. It is the new "Share Your Project" section. You, my creators, can upload images and descriptions of your creations to share with the ever growing community! To upload simply click here. 
Additionally, I host a livestreaming podcast, vlog or show weekday on my YouTube Channel called The Kristin Omdahl Show. You can join the audience and even ask me questions LIVE! I often do a show and tell, or quick demo and I always interact with the live audience. It is a lot of fun!
You can browse through close to 1000 previously recorded episodes HERE: The Kristin Omdahl Show Playlist. Make sure to subscribe to my YouTube Channel to get reminders when the next episode airs LIVE.
I look forward to seeing what you create!
xoxo,
Kristin