Invitation to Participate in the 1000th Episode Celebration of The Kristin Omdahl Show
As the 1,000th episode of my daily livestream show approaches, I realize this is not only significant to me but also to everyone who has chosen to join me for this journey. Whether or not you have been with me from Day 1, I want to make sure I make this milestone special for all of us, and invite you to be a part of this special occasion.
Over the years, so many of you have shared your stories with me about how I have affected your lives.  You have reacted to my sharing of my life stories, of how I like to reach out to others, or simply showing up live every day.  You have shared your own stories with me, and what a gift they have been!
Now I would love to have an opportunity to pay that gift forward, and share your stories.  I want to collect them, and save them, and share the collective sense of inspiration, hope and community that we have created.
If you would like to explain how I have positively influenced your life through my live show, my body of work, my charity, or in any other way, I would love for you to share that story with me. Please also let me know if you want me to protect your identity and keep your name private. As always, I want you to feel safe. It is your choice.
I will be collecting the stories in a blog post, and want to share them live on the 1,000th episode of the show.  I always say "we are more alike than we are different, and The Kristin Omdahl Show would not exist without all of you".  Let us celebrate the joyous and supportive worldwide community that we have created.  
Thank you for being a part of my life.
You are cordially invited to celebrate the 1000th episode celebration of The Kristin Omdahl Show. Please fill out the form below, sharing what the show has meant to you over the years.
It will be so special for me to read what my show has meant to you. And it will also be so special for you to hear what the show has meant to others as well.
I am so proud of myself for consistently showing up, going LIVE and sharing my life with a live audience. I have learned so much from learning how to handle unexpected LIVE issues with a global audience and mostly broadcasting in public places. It has been such a tremendous experience personally and professionally.
I hope you will feel comfortable sharing with me. I can't wait to hear from you.
Let us make time to create, share and inspire, today and every day.
xoxo, Kristin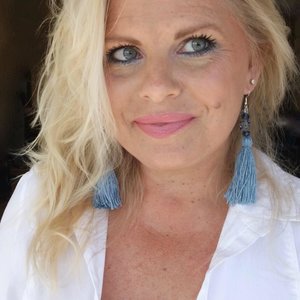 Kristin Omdahl is the best-selling author of dozens of knit and crochet books; publisher of almost 1000 knit and crochet patterns; producer of award-winning videos; and curator of gorgeous yarns and products. You can join Kristin LIVE 5 days a week for The Kristin Omdahl Show on YouTube and browse through thousands of tutorial videos there, too. Kristin donates a portion of every sale to help survivors of domestic violence. Learn more about Kristin's charity, Project Kristin Cares HERE.
Shop Kristin Omdahl Yarns HERE
Shop Kristin Omdahl Crochet Patterns HERE
Shop Kristin Omdahl Knitting Patterns HERE
I would love to see your creations. Just as much fun as making these myself is the satisfaction I get from seeing my designs come to life and other knit and crochet fans wearing them too.
I have recently added a wonderful new interactive section to the website which I invite you to take part in, it has been a smashing success and such fun so far. It is the new "Share Your Project" section. You, my creators, can upload images and descriptions of your creations to share with the ever growing community! To upload simply click here. 
Additionally, I host a livestreaming podcast, vlog or show weekday on my YouTube Channel called The Kristin Omdahl Show. You can join the audience and even ask me questions LIVE! I often do a show and tell, or quick demo and I always interact with the live audience. It is a lot of fun!
You can browse through close to 1000 previously recorded episodes HERE: The Kristin Omdahl Show Playlist. Make sure to subscribe to my YouTube Channel to get reminders when the next episode airs LIVE.
I look forward to seeing what you create!
xoxo,
Kristin