Pantone Announces the 2022 Color of the Year Very Peri
Yellow is the true complement of violet and blue-violet, so shades of lemon, sunflower, mustard and gold contrast with periwinkle beautifully.
Analogous colors are next to each other on the color wheel. Periwinkle being a blue-violet also means it looks pretty with some shades of blue and some shades of violet as well.
The blue side of periwinkle expands your options for playing with classic color complements, because orange is blue's true complement on the color wheel. Soft periwinkle and vivid orange are a dynamic duo. Contrast in intensity is the key to making this work.
There are so many rich, gorgeous colors to choose from in all my yarns. Here I am specifically pointing out the periwinkle shades of each yarn:
Here are some color combinations featuring periwinkle shades I curated for your consideration and inspiration:
The family of Kristin Omdahl Yarns are 100% thoughtfully sourced and 100% gorgeous. All of Kristin Omdahl Yarns are supported with professional, well written and beautiful knit and crochet patterns, many of which are supported with supplemental tutorial videos, too. Browse other quality Kristin Omdahl products including tools, books, and so much more in the Store.
A portion of every sale funds Kristin's charity Project Kristin Cares, helping people affected by domestic violence.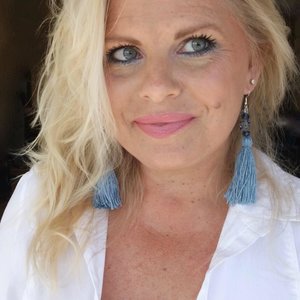 Kristin Omdahl is the best-selling author of dozens of knit and crochet books; publisher of almost 1000 knit and crochet patterns; producer of award-winning videos; and curator of gorgeous yarns and products. You can join Kristin LIVE 5 days a week for The Kristin Omdahl Show on YouTube and browse through thousands of tutorial videos there, too. Kristin donates a portion of every sale to help survivors of domestic violence. Learn more about Kristin's charity, Project Kristin Cares HERE.
Shop Kristin Omdahl Yarns HERE
Shop Kristin Omdahl Crochet Patterns HERE
Shop Kristin Omdahl Knitting Patterns HERE
I would love to see your creations. Just as much fun as making these myself is the satisfaction I get from seeing my designs come to life and other knit and crochet fans wearing them too. There are now 2 ways you can share what you have done!
I have recently added a wonderful new interactive section to the website which I invite you to take part in, it has been a smashing success and such fun so far. It is the new "Share Your Project" section. You, my creators, can upload images and descriptions of your creations to share with the ever growing community! To upload simply click here. 
Additionally, I host a livestreaming podcast, vlog or show weekday on my YouTube Channel called The Kristin Omdahl Show. You can join the audience and even ask me questions LIVE! I often do a show and tell, or quick demo and I always interact with the live audience. It is a lot of fun!
You can browse through close to 1000 previously recorded episodes HERE: The Kristin Omdahl Show Playlist. Make sure to subscribe to my YouTube Channel to get reminders when the next episode airs LIVE.
Join the KO Community for a PRIVATE forum to chat with other KO friends HERE
I look forward to seeing what you create!
xoxo,
Kristin