Miley Medallion Crochet Earrings Free Pattern Page by Kristin Omdahl
These are super simple earrings that are easy to whip up in only a few minutes. Combining sequin yarn with another yarn is a great way to add extra embellishment and glamour to a simple project. Combine coordinating sequins with yarn for a tonal look or go for a contest color for even more POP!
Download the ad-free PDF Pattern with charts HERE
What you will need:
1 spool sequin carry along yarn
30 yds (27m) #1 fingering weight yarn
E/4 (3.5mm) crochet hook
2 19mm flat fishhook earwire findings
2 4mm split jump rings
2 pairs of pliers
Yarn needle
Scissors
Equal parts Elmers glue and water
Suggested yarns:
Party Delight Sequin Yarn from Hobbii
Soft Bamboo Fine from Hobbii
Gauge: 1 medallion is 3 in (7.6cm) in diameter
Finished size: each earring is 3 in (7.6cm) in diameter
Note: Both yarns are held together throughout this pattern.
Instructions:
Round 1: Ch4, dc in 4th ch from hook, (3 skipped chs count as first dc), 14 dc in same ch, slst to top of ch3 at beg of round to join. — 16 dcs
Round 2: Ch3 (counts as first dc), 1dc in same st, 2dc in ea st around, slst to top of ch3 at beg of round to join. — 32 dcs
Round 3: Ch3 (counts as first dc), 1dc in same st, 1dc in next st, *2dc in next st, 1dc in next st. Rep from * around, slst to top of ch3 at beg of round to join, ch3, skip 1 dc, slst in next dc. — 48 dcs, 1 ch3 sp
Fasten off.
Assembly:
Open split ring with pliers. Insert ch3 sp of earring and loop of earring finding into ring. With both sets of pliers, close ring.
Note: Join earring finding with pliers to top center of earring in ch3 sp. If you want the earring facing forward, join directly to finding. If you want earring facing sideways, join jump ring to top center of earring first, then join earring finding to jump ring.
Finishing:
Weave in loose ends. Soak earring in solution of half glue and half water until saturated. Squeeze out excess liquid. Lay flat to dry.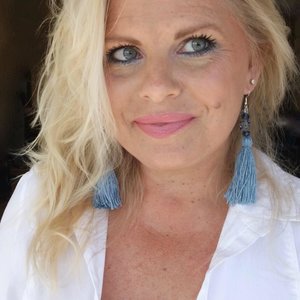 Kristin Omdahl is the best-selling author of dozens of knit and crochet books; designer of almost 1000 knit and crochet patterns; and producer of award-winning videos. You can join Kristin LIVE 5 days a week for The Kristin Omdahl Show on YouTube and browse through thousands of tutorial videos there, too. Kristin donates a portion of every sale to help survivors of domestic violence. Learn more about Kristin's charity, Project Kristin Cares HERE.
Shop Kristin Omdahl Crochet Patterns HERE
Shop Kristin Omdahl Knitting Patterns HERE
I would love to see your creations. Just as much fun as making these myself is the satisfaction I get from seeing my designs come to life and other knit and crochet fans wearing them too. There are now 2 ways you can share what you have done!
I have recently added a wonderful new interactive section to the website which I invite you to take part in, it has been a smashing success and such fun so far. It is the new

"Share Your Project" section

. You, my creators, can upload images and descriptions of your creations to share with the ever growing community!

To upload simply click here. 

If you want to continue the party, join the KO Community Forums on my website. It is 100% PRIVATE! You can start or join forum posts, and even direct message others, too. Join the KO Community forums

HERE

 
Additionally, I host a livestreaming podcast, vlog or show weekday on my YouTube Channel called The Kristin Omdahl Show. You can join the audience and even ask me questions LIVE! I often do a show and tell, or quick demo and I always interact with the live audience. It is a lot of fun!
You can browse through over 1000 previously recorded episodes HERE: The Kristin Omdahl Show Playlist. Make sure to subscribe to my YouTube Channel to get reminders when the next episode airs LIVE.
You can also Refer-A-Friend and get rewarded, too! Learn more HERE
I look forward to seeing what you create!
xoxo,
Kristin