Summer is coming to an end and with fall right around the corner, it seems like a perfect time to not only celebrate what is left of summer (my favorite season) but also gear up for crafting in the fall! Whether you are looking for pattern inspiration to make things for yourself, for gifts, to sell or to give away to charity, inspiration is always helpful along our creative journey.
How to enjoy the Red HOT Summer Sale:
Please enjoy the following savings through the end of August with NO COUPON CODES required!
Buy any 3 patterns and get 3 patterns FREE. You must put all 6 patterns into your cart; once the 6th pattern is entered into the cart, 3 will be marked free. This applies to any multiple of 6 as well: buy 6 patterns, get 6 free. Buy 12 patterns, get 12 free. If you have any questions, please ask!
But wait, there is more to this Red HOT Summer Sale!
Buy any eBook and get a second eBook FREE! You must put both eBooks into your cart; once the second eBook is entered into the cart, it will be marked free. This applies to any multiple of 2 as well: buy 2 eBooks, get 2 free. Buy 4 eBooks, get 4 free. If you have any questions, please ask!
If you are logged into your account AT THE TIME OF PURCHASE, you will receive the additional benefit of always having your purchases available in your download library. There you will enjoy 24/7 access and unlimited downloads.
If you prefer to order without an account, you may download from the emails that will be automatically generated immediately after your purchase.  Please be sure to check your Spam or Junk mail if you don't see the email, as it is probably there.
Shop Kristin Omdahl ebooks HERE
Shop Kristin Omdahl knit patterns

HERE
Shop Kristin Omdahl crochet patterns

HERE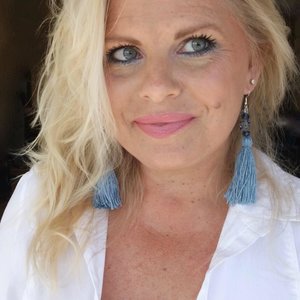 Kristin Omdahl is the best-selling author of dozens of knit and crochet books; designer of almost 1000 knit and crochet patterns; and producer of award-winning videos. You can join Kristin LIVE 5 days a week for The Kristin Omdahl Show on YouTube and browse through thousands of tutorial videos there, too. Kristin donates a portion of every sale to help survivors of domestic violence. Learn more about Kristin's charity, Project Kristin Cares HERE.
Shop Kristin Omdahl Crochet Patterns HERE
Shop Kristin Omdahl Knitting Patterns HERE
I would love to see your creations. Just as much fun as making these myself is the satisfaction I get from seeing my designs come to life and other knit and crochet fans wearing them too. There are now 2 ways you can share what you have done!
I have recently added a wonderful new interactive section to the website which I invite you to take part in, it has been a smashing success and such fun so far. It is the new

"Share Your Project" section

. You, my creators, can upload images and descriptions of your creations to share with the ever growing community!

To upload simply click here. 

If you want to continue the party, join the KO Community Forums on my website. It is 100% PRIVATE! You can start or join forum posts, and even direct message others, too. Join the KO Community forums

HERE

 
Additionally, I host a livestreaming podcast, vlog or show weekday on my YouTube Channel called The Kristin Omdahl Show. You can join the audience and even ask me questions LIVE! I often do a show and tell, or quick demo and I always interact with the live audience. It is a lot of fun!
You can browse through over 1000 previously recorded episodes HERE: The Kristin Omdahl Show Playlist. Make sure to subscribe to my YouTube Channel to get reminders when the next episode airs LIVE.
You can also Refer-A-Friend and get rewarded, too! Learn more HERE
I look forward to seeing what you create!
xoxo,
Kristin