"Crochet Power 2: Edgings" Crochet Edging Book Available for Pre-Order NOW!
This is the newest crochet edging book by Kristin Omdahl.
PRE-ORDER. Books will ship on or before October 15, 2022. Each book will be personalized and autographed to the person who places the order unless otherwise specified. For a limited time, each customer who pre-orders the paperback book will receive the eBook for FREE ($12.99 value) on the day their paperback book ships.  This offer ends the day books begin ship – don't miss out on your opportunity to have every pattern in your personal digital library at no extra charge!
PRE-ORDER New crochet edging book "Crochet Power 2: Edgings" today!
Note: In order to receive your free eBook, you must log into your account on the Kristin Omdahl website prior to placing your order. Your free eBook will be added to your existing Kristin Omdahl account.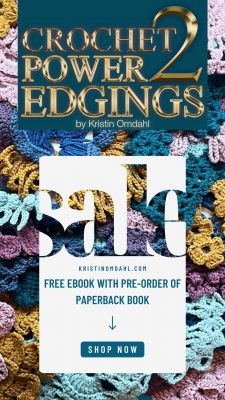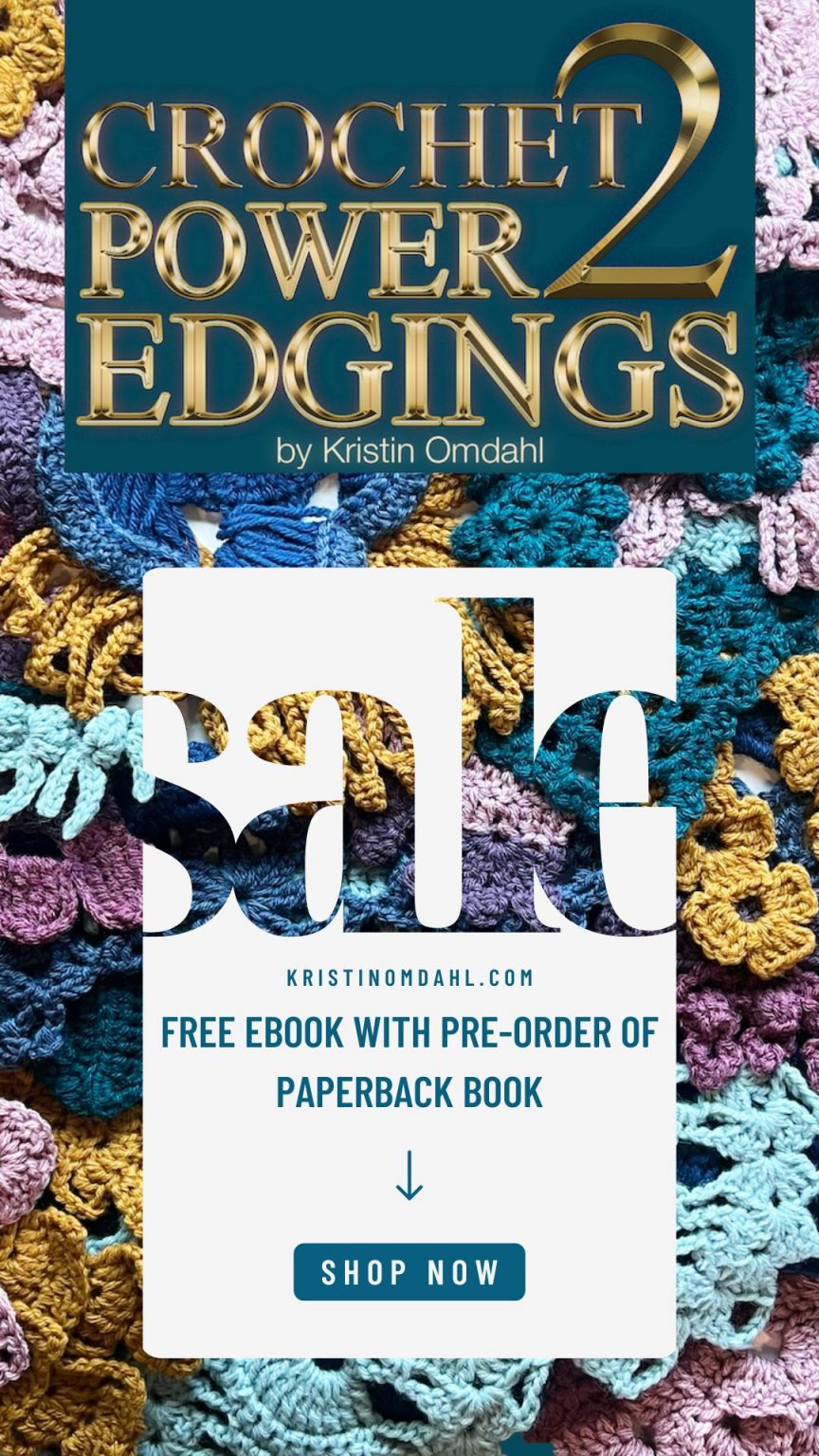 This massive reference book features 100 crochet edgings organized by construction style and easy to locate with color-coded chapters and detailed indexing. You can search by multiples within construction style, too! Learn how to crochet around shapes and corners with easy shaping techniques. Each edging pattern features charts, multiples for repeats and step-by-step written instructions.
Why I wrote this crochet edgings book "Crochet Power 2: Edgings":
20 years ago, when I first had a curiosity about knitting and crocheting, I was pregnant and living overseas without access to patterns, classes, videos or even a friendly face to guide me. I struggled with hand-eye coordination, consistent tension, stitch concepts, and reading patterns. I struggled with confidence and lacked the reassurance to know that it is okay to make mistakes along the way when learning something new. I am excited to give you what I wish I had when I was beginning my journey. 
I think of edgings as the icing on the cake or the flower in your hair or the lipstick that goes with your outfit. It is the finishing touch that elevates your handmade creations or takes store bought fabrics to a new level. Edgings can also bring new life and love to old fabrics, too. 
In this book I present you with options for edgings in a wide assortment of aesthetics, including whimsical shells and flowers, classic textures, ribbing and much more.  I have also organized this 100-edging collection to make it easy for you to use for whatever purpose you are seeking.
"Crochet Power 2: Edgings" this NEW crochet edgings book features 100 gorgeous crochet edgings!
First, the chapters are organized by construction style and color coded for easy location: bottom-up construction (blues), fringes and dangles (gold); perpendicular construction (greens) and top-down construction (pink/purple). Each construction style is described in further detail in the How to Use this Book section. Also notice that the last chapter is the largest and has been sub-categorized even further to be even more useful. Top-down construction is organized by 1-row, 2-row and multi-row repeats. 
You will see examples of how to incorporate shaping to turn corners in the easiest ways possible; where and when each construction style is applicable and even to use these edgings for more than just edging!
Crochet Power 2: Edgings book is a crochet edgings book organized by construction style: bottom up, top down, perpendicular and fringe edging. And the edging multiples are also indexed for each reference!
With this book, it is my dream to empower you to get the very most out of every edging pattern and gain the skills and confidence to make and embellish anything you want to make with your crochet hook and yarn.
Learning is such a personal experience and each of us learns in a unique way. Please enjoy the written instructions, charts, classes and the supplemental video tutorials on my website to enhance your experience. This entire book is printed in larger font to make reading it as simple and easy as possible.
I am so excited to share Crochet Power 2: Edgings with you! I hope you enjoy this crochet edgings book as much as I do!
xoxo, Kristin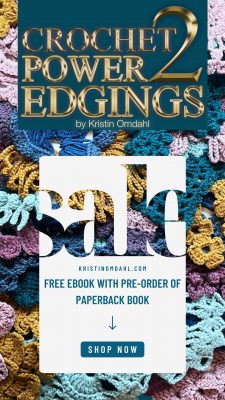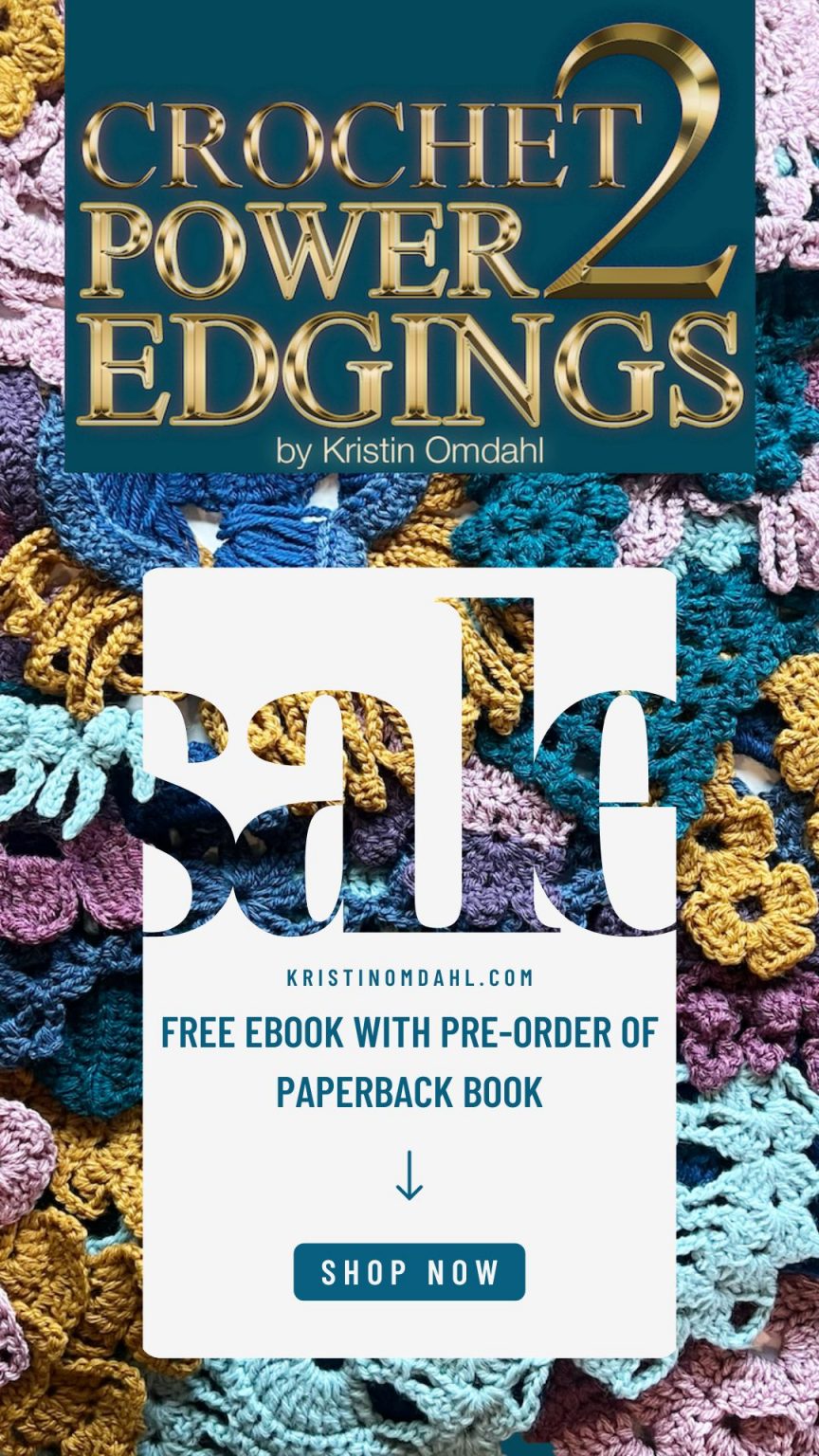 Kristin Omdahl is the best-selling author of dozens of knit and crochet books; designer of almost 1000 knit and crochet patterns; and producer of award-winning videos. You can join Kristin LIVE 5 days a week for The Kristin Omdahl Show on YouTube and browse through thousands of tutorial videos there, too. Kristin donates a portion of every sale to help survivors of domestic violence. Learn more about Kristin's charity, Project Kristin Cares HERE. Kristin Omdahl the best in knitting & crochet patterns courses & books. Purchase crochet & knit patterns books and classes today.
Shop Kristin Omdahl Crochet Patterns
HERE
Shop Kristin Omdahl Knitting Patterns
HERE
I would love to see your creations. Just as much fun as making these myself is the satisfaction I get from seeing my designs come to life and other knit and crochet fans wearing them too. There are now 2 ways you can share what you have done!
I have recently added a wonderful new interactive section to the website which I invite you to take part in, it has been a smashing success and such fun so far. It is the new

"Share Your Project" section

. You, my creators, can upload images and descriptions of your creations to share with the ever growing community!

To upload simply click here. 

If you want to continue the party, join the KO Community Forums on my website. It is 100% PRIVATE! You can start or join forum posts, and even direct message others, too. Join the KO Community forums

HERE

 
Additionally, I host a livestreaming podcast, vlog or show weekday on my YouTube Channel called The Kristin Omdahl Show. You can join the audience and even ask me questions LIVE! I often do a show and tell, or quick demo and I always interact with the live audience. It is a lot of fun!
You can browse through over 1000 previously recorded episodes HERE: The Kristin Omdahl Show Playlist. Make sure to subscribe to my YouTube Channel to get reminders when the next episode airs LIVE.
You can also Refer-A-Friend and get rewarded, too! Learn more HERE
I look forward to seeing what you create!
xoxo,
Kristin