How to Make Easy Changes to Crochet Patterns by Kristin Omdahl
If you've been crocheting a while, you probably have quite a collection of crochet patterns. Below are several of my favorite tips for how to make easy changes to crochet patterns.
Live video demonstration of all the tips shown in this article:
Easy Changes to Crochet Patterns #1 Tip: Yarn Substitution
If you want to use a different yarn than is used in the original pattern, it is easy to find a yarn substitution.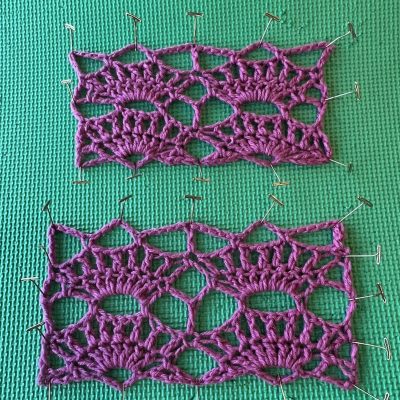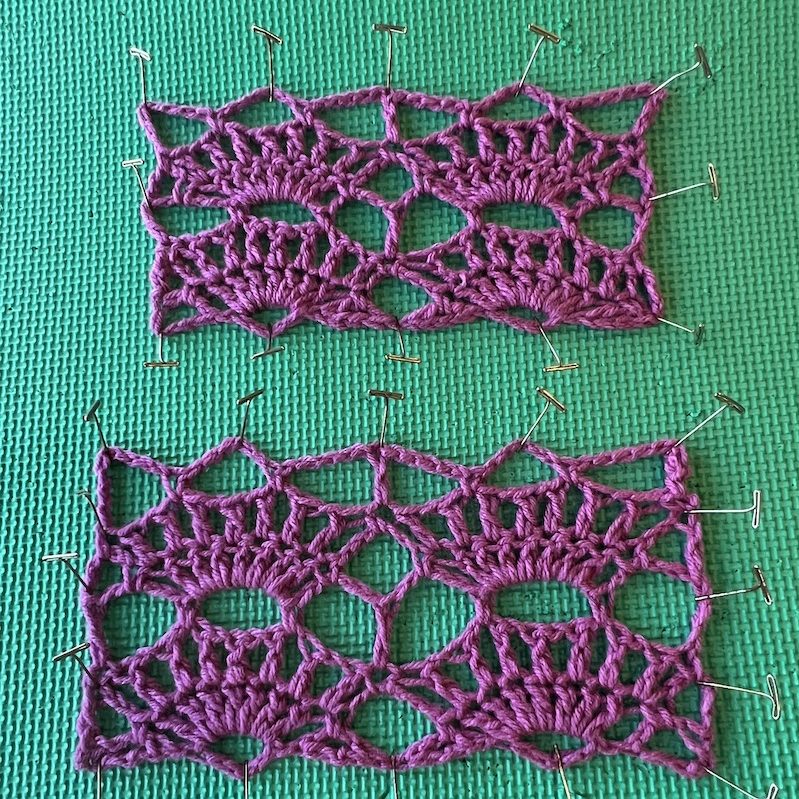 First, you want to make sure you search for a yarn that is a similar weight. For example, the Tender Claire Crochet Pattern uses #4 worsted weight yarn. This is an easy, crochet cardi vest pattern.
Next, you want to crochet a swatch in the new yarn; weave in the loose ends; wash it; block it; and allow it to dry.
Next, you want to measure your swatch and see if it has the same gauge measurements as the original pattern.
If yes, you can start making your pattern.
If no, you will want to start the swatch process over with a different sized crochet hook
If your gauge measurement is too small, re-crochet your swatch with a larger hook. If your gauge measurement is too large, re-crochet your swatch with a smaller hook.
Easy Changes to Crochet Patterns #2 Tip: Choosing Yarn Color
Changing the color of yarn used in a pattern is really easy way to make your finished crochet project look different. If you struggle when choosing yarn color for a project, here are some easy suggestions:
Go into your closet and see what colors stand out. Do you wear a lot of bright colors? Do you wear a lot of neutral colors? Do you gravitate toward cooler colors or warmer colors? Let your closet be your guide.
Look at photos of yourself and see which colors you think suit your skin tone best. Do you look best in cooler colors or warmer colors?
Do not feel pressured to make the project in the same yarn or same color as used in the crochet pattern unless it is a color you love to wear and it brings you joy!
Just because the photo in a pattern features the crochet project in red yarn does not mean you need to make the project with red yarn.
Easy Changes to Crochet Patterns #3 Tip: Colorwork
Depending on the stitch pattern used and also the construction of a garment, adding multiple colors can be a fun way to change up a pattern AND even make it look a lot different!
Experiment with your swatches and see where it looks best to change colors. On a solid fabric of all single or double crochet stitches, it is very easy to place stripes.
Read this informative blog post about how and where to add stripes to a crochet fabric here
The stitch pattern featured in the Tender Claire Crochet Pattern has a 3 row lace stitch pattern. You could crochet the stripes to be one color for the scallop rows and a different color for the chain row. Or you could crochet a different color for each row.
Colorwork is also a great way to use up little bits of yarn, aka stash busting!
Choosing colors to coordinate can be challenging – until you learn a little bit about color theory – and experiment. Then it is fun!
Color theory is a very interesting and multi-faceted subject. The short answer is you should choose colors that make you happy. But depending on how deeply you want to think about colors, it can also be easy to overthink color choices.
What colors does the yarn I want to use come in? What colors are in stock?
Do you want a tonal, analogous or high contrast color palette? Tonal would be 3 shades of the same color, analogous would be colors that sit next to each other on the color wheel, and high contrast would be colors that are opposite the color wheel.
Do you have a color inspiration? Perhaps it is a sport team's colors? Or a movie's or character's colors? Or maybe you already have a strong point of view of the colors you know and love? If in doubt, I always like to think of Mother Nature as good color inspiration. Mother Nature beautifully combines flower colors with leaf colors – so think of shades of greens/browns with pops of other colors like reds, pinks, oranges, yellows, blues or purples.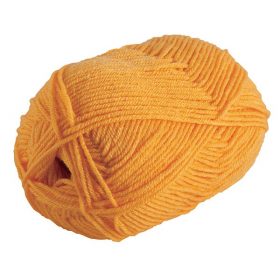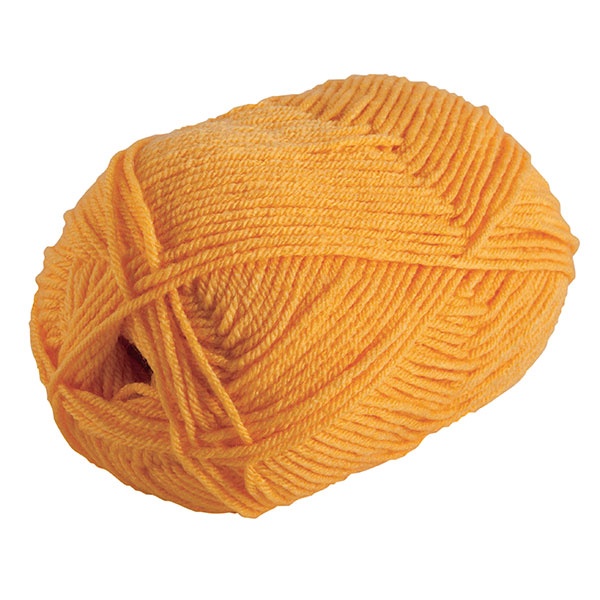 I found an interesting website called Color Space that can help you coordinate colors. If you know one color you want to use, then it will generate several palettes from 3 – 6 color combinations around that one color!
I wanted to see if I could coordinate a fall-inspired color palette of stripes with Knit Picks Brava Worsted Yarn in color Caution. It is a warm yellow-orange color. So I color picked the number #F0AA4F from the photo of the yarn in Canva. I entered that number into the website generator, and here are the 25 gorgeous combinations it suggested to me. Then I compared the palettes I loved with what was available in the yarn I chose. As you can see, there are so many varied combinations that evoke different moods, looks, and possibilities! My heart swooned when I saw the combinations of teal with this golden yellow. I especially love the Generic Gradient palette. This palette inspired me to experiment with a few other colors of the Brava Worsted yarn.
In the swatch swatch on the left, I chose to make 1 and 2 row stripes with 5 colors of yarn: Caution (golden yellow/orange), avocado (yellow-green), peapod (grass green), Hunter (dark teal) and Solstice Heather (deep blue violet). Because this stitch pattern is a 3 row repeat and I am choosing to crochet in 1 and 2 row stripes, it is essentially a 2 row repeat as far as color stripes are concerned. Using 5 colors of yarn in a 2 stripe repeat, allows me to alternate the position of the colors really well. For example, the first time I used avocado it was for a shell, and the second time I used avocado I used it for a chain row.
I love how more random a color sequence looks when you do not match the number of stripes to the number of colors used. 
Easy Changes to Crochet Patterns #4 Tip: Modifying length and width
Understanding the construction style of a crochet pattern is most important concept before you can begin to figure out size or shape modifications. For the Tender Claire Crochet Pattern specifically, this is a Cardi wrap crochet vest pattern that is worked sideways from the center back. So the starting chain is the vertical center line down the back.
If you want to add length to your vest, increase the number of foundation ovals in the step up row at the beginning of this project, in a multiple of 3 for the stitch pattern.
If you want to add width to either the back or the fronts, increase the number of rows you crochet. This is a 3-row repeat pattern. Make sure you end on the same row repeat for any specific instructions on the pattern, for example, the armhole openings.
Easy Changes to Crochet Patterns #5 Tip: Adding Sleeves and Edging
Adding sleeves and or edging is a wonderful way to add more variation to a crochet pattern.
If you can convert the stitch pattern from rows to rounds on your own, you can simply work the sleeves right into the armhole openings and stop when the sleeve is your desired length (don't forget about blocked gauge measurement – your sleeve may be longer once it is washed in water).
You can also crochet the sleeves flat in rows and just sew up the seam when you complete the sleeves.
You can add any edging to any project! Whether a simple double crochet band, fringe, ribbing or scallops, edging can take a crochet pattern to a whole new level!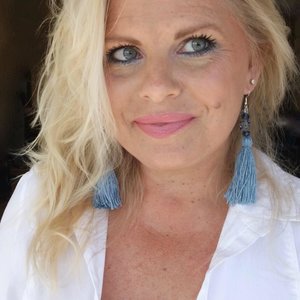 Kristin Omdahl is the best-selling author of dozens of knit and crochet books; designer of almost 1000 knit and crochet patterns; and producer of award-winning videos. You can join Kristin LIVE 5 days a week for The Kristin Omdahl Show on YouTube and browse through thousands of tutorial videos there, too. Kristin donates a portion of every sale to help survivors of domestic violence. Learn more about Kristin's charity, Project Kristin Cares HERE.
I would love to see your creations. Just as much fun as making these myself is the satisfaction I get from seeing my designs come to life and other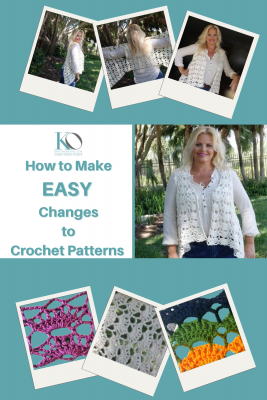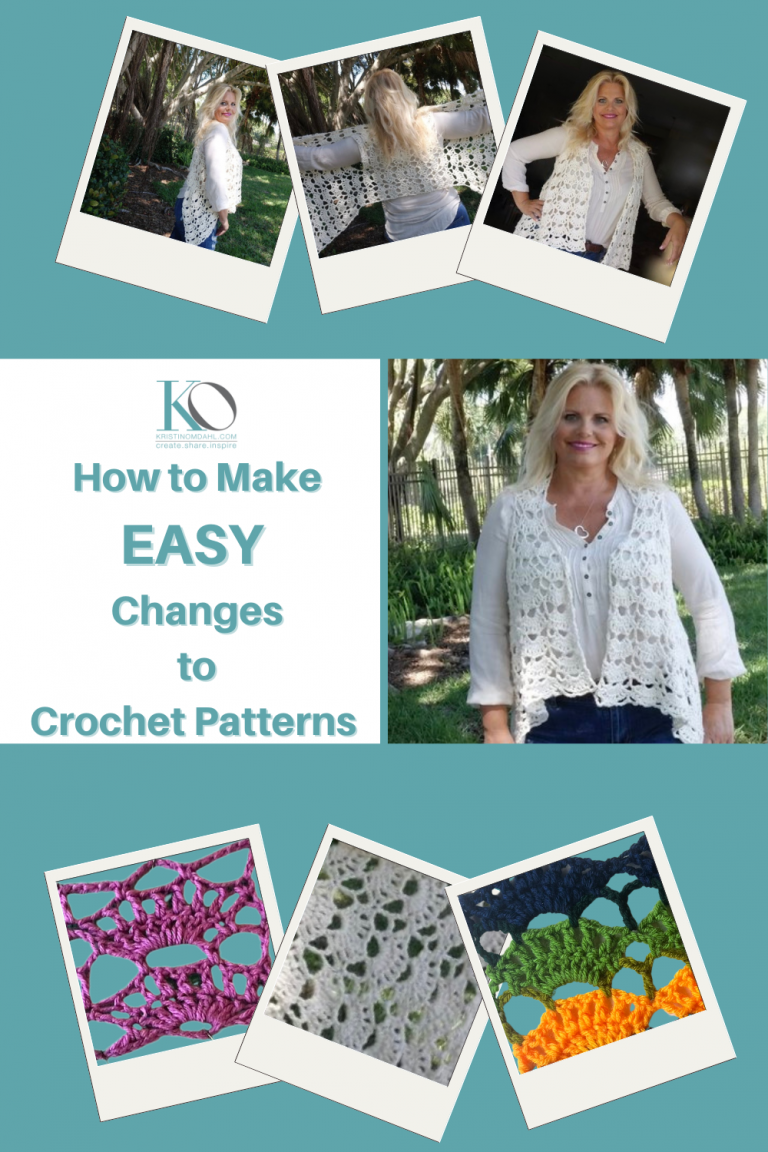 knit and crochet fans wearing them too. There are now 2 ways you can share what you have done!
I have recently added a wonderful new interactive section to the website which I invite you to take part in, it has been a smashing success and such fun so far. It is the new

"Share Your Project" section

. You, my creators, can upload images and descriptions of your creations to share with the ever growing community!

To upload simply click here. 

If you want to continue the party, join the KO Community Forums on my website. It is 100% PRIVATE! You can start or join forum posts, and even direct message others, too. Join the KO Community forums

HERE

 
Additionally, I host a livestreaming podcast, vlog or show weekday on my YouTube Channel called The Kristin Omdahl Show. You can join the audience and even ask me questions LIVE! I often do a show and tell, or quick demo and I always interact with the live audience. It is a lot of fun!
You can browse through over 1000 previously recorded episodes HERE: The Kristin Omdahl Show Playlist. Make sure to subscribe to my YouTube Channel to get reminders when the next episode airs LIVE.
You can also Refer-A-Friend and get rewarded, too! Learn more HERE
I look forward to seeing what you create!
xoxo,
Kristin