Nothing says I love you like taking the time, energy and creativity to make a gift for someone. Whether it is food or crafts, when you make something by hand, over time it allows you the ability to add love and intention in every stitch or step along the way. Here are some suggestions for many types of handmade gift ideas to consider for the holidays and for year-round giving.
Personally, I have been making handmade for holiday gifts most of my life. I started making gift baskets with homemade pickles, preserves, dips and baked goods right after high school. Then over the years, as I learned more hand crafts, I began to make other kinds of gifts as well. Sometimes I combined store bought and handmade gifts, too. For example, you can sew a tote bag to use as the gift wrapping for other kinds of gifts, too.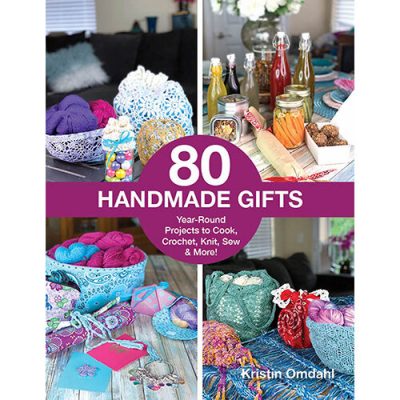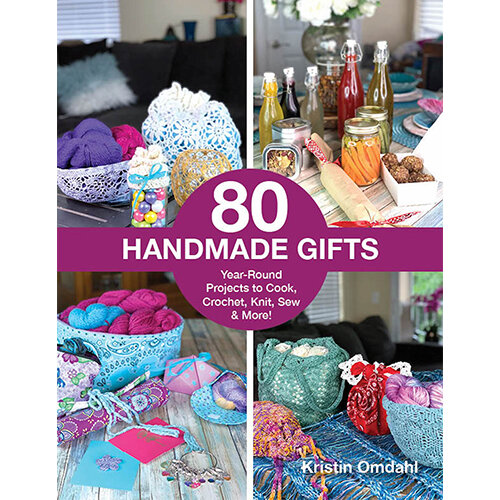 80 Handmade Gifts Book is your new, go-to guide for making handmade gifts anyone would love. A perfect reference to keep on hand for holidays, birthdays, and last-minute gifting opportunities year-round, including hostess, get well soon, thank you, or no-reason-at-all gifts. Download the 80 Handmade Gifts eBook to get started right away.
This collection includes many kid-friendly projects. Bond with your loved ones and teach the next generation to create, share, and inspire others with handmade gifts.
This collection of projects was curated with usefulness in mind: a gift that can be used regularly is the gift that keeps on giving. Choose a quick and easy project from a wide variety of disciplines including: knitting, crochet, sewing, paper crafts, cooking and more. You are sure to find the perfect gift!
Each project includes step-by-step instructions, clear photographs plus variations, to help you make each gift a one-of-a-kind.
Combining Handmade Gift Ideas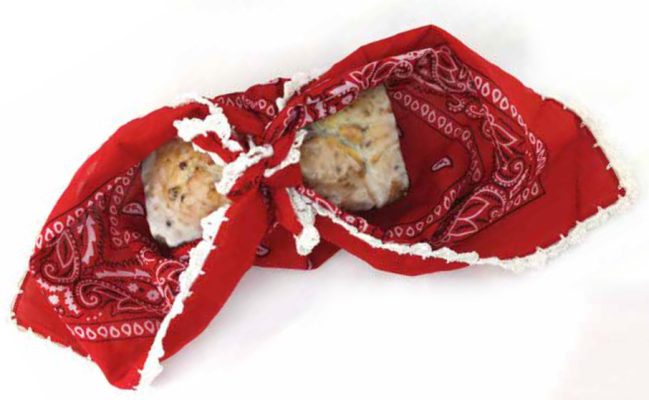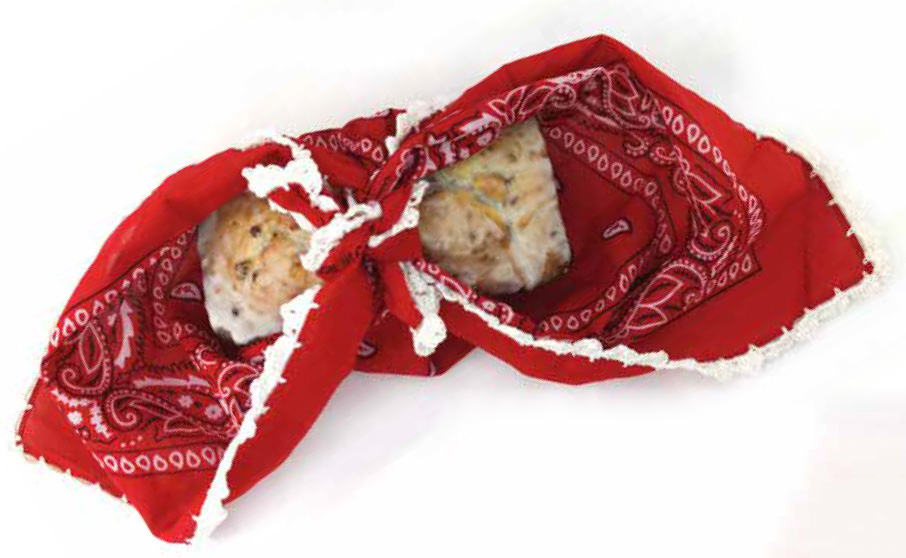 There is no wrong way to be creative as long as you are happy with your results. And you can make your gifts so much more customizable by thinking of the person when choosing your ingredients, materials, colors, flavors and designs. You could knit or crochet an edging around the trim of a bandana and use that to wrap up a delicious homemade lime raspberry loaf cake.
In this particularly example I have options for embellishing the bandana with either a knit or crochet edging. And you could even apply this to another type of fabric. The recipe for the raspberry-lime loaf cake includes options for lemon-blueberry and orange-cardamon flavor profiles, and instructions for making each of these into either mini muffins, mini loaf cakes or full size loaf cake. Depending on the type you make, the way you package them can vary.
I just love how the loaf cake looks wrapped in the crochet edged bandana.
Here is another example of combining handmade gifts: origami folded gift box to hold handmade jewelry or other smaller handmade gifts. But you aren't limited to that, either. Embellish the origami gift box with tasseled crochet chains and put any kind of gift inside, store-bought or otherwise.
Learn to make this surprisingly easy origami gift box at the video on the left, or follow step by step instructions here: Origami Gift Box
Quick and Easy Handmade Gift Ideas
52 Crochet Gifts Book is another wonderful resource for handmade gift giving. The focus in this book is on small projects that can be make quickly. Each project can be made in a few hours ro a few days, meaning that with the 52 crochet projects included in this book, you could essentially make a gift each week of the year. Wouldn't that be wonderful for always being prepared for last-minute gifting opportunities that arise?
Each chapter is organized by type of crochet project. In chapter 1 you will find crochet hats, flower embellished hair pins, earrings, headbands and a beaded scrunchy, too. In chapter 2 you will find beaded bracelets and fingerless mitts. In chapter 3 you will find scarves, necklaces, cowls, leg warmers, and crochet on fabric. In chapter 4 you will find an assortment of various types of crochet bags including a laptop case. In chapter 5 you will find many home decor patterns including afghans, mandalas, plant hangers, wall art, bowls, and more.
Handmade Gifts For Sale
Appreciating handmade gifts and having the time to make them are not necessarily the same. And whether you specialize in edible food gifts, jewelry making, sewing, knitting or crochet, you may appreciate other types of handmade gifts without the ability to make them or give them as gifts. You can now purchase one-of-a-kind handmade gifts made exclusively by me, Kristin Omdahl. Shop Kristin Omdahl's handmade gifts here. Coming soon I will have gift wrapping available, too.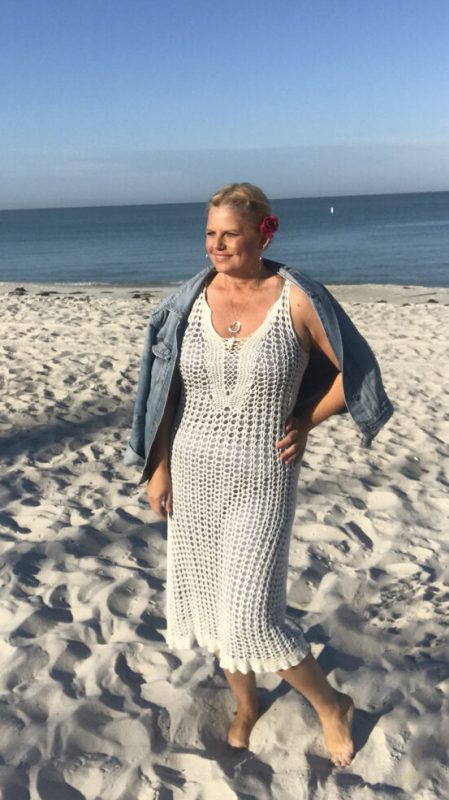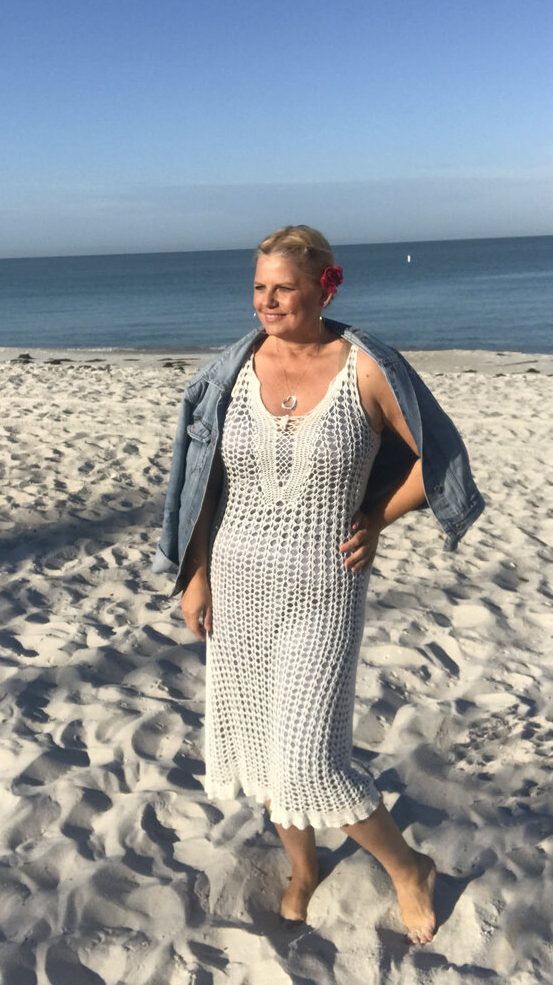 Sign up for Kristin Omdahl's Newsletter
100% Private
Sign up for the Kristin Omdahl newsletter. It is 100% private, free and FUN!
Annual Gift from Kristin
Share your birth month and day to receive an annual birthday gift & greeting from Kristin.
Get the Latest News & Offers
Get notified when new products arrive. Get up-to-date with the latest trends from Kristin Omdahl knitting & crochet. And get access to exclusive offers!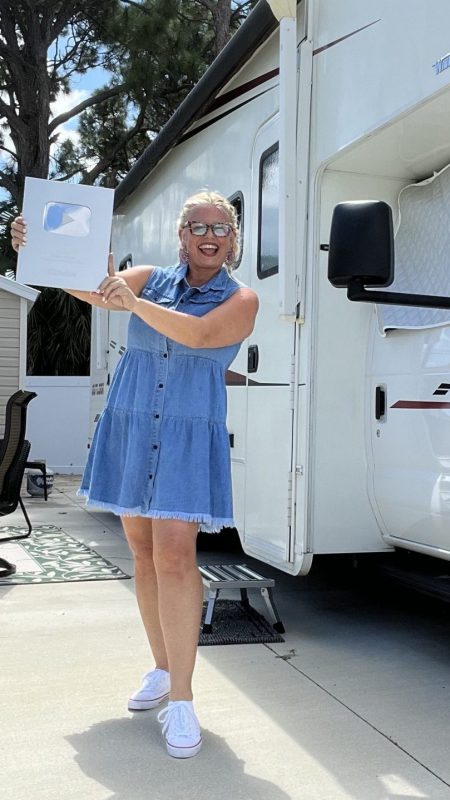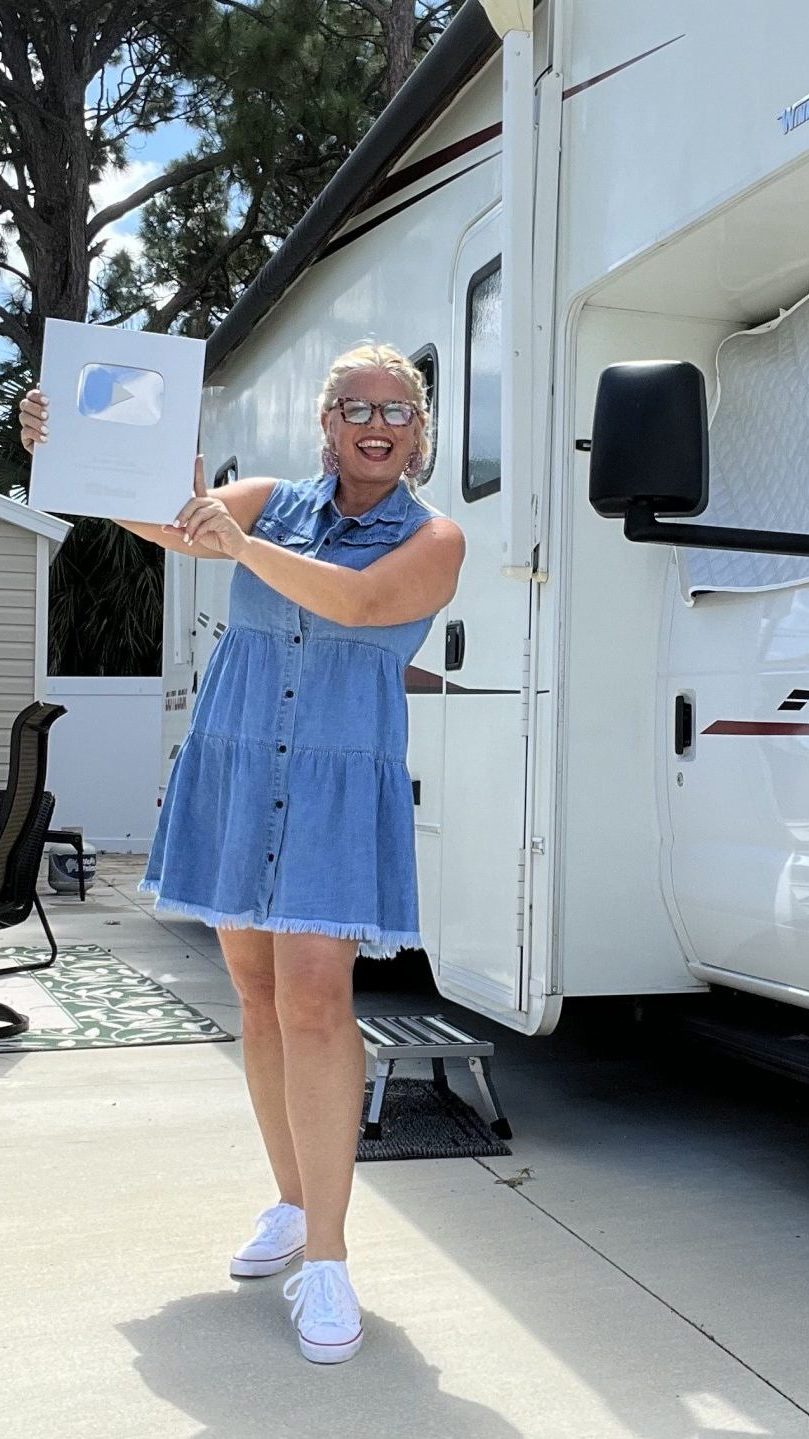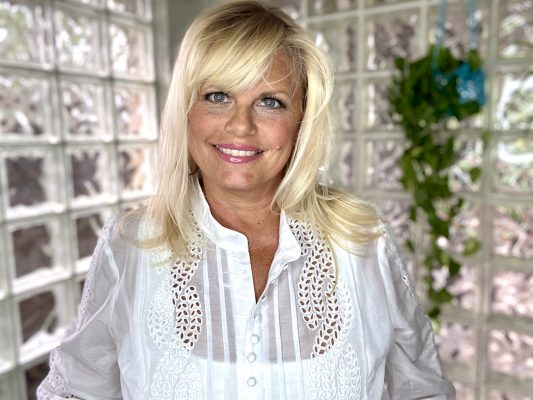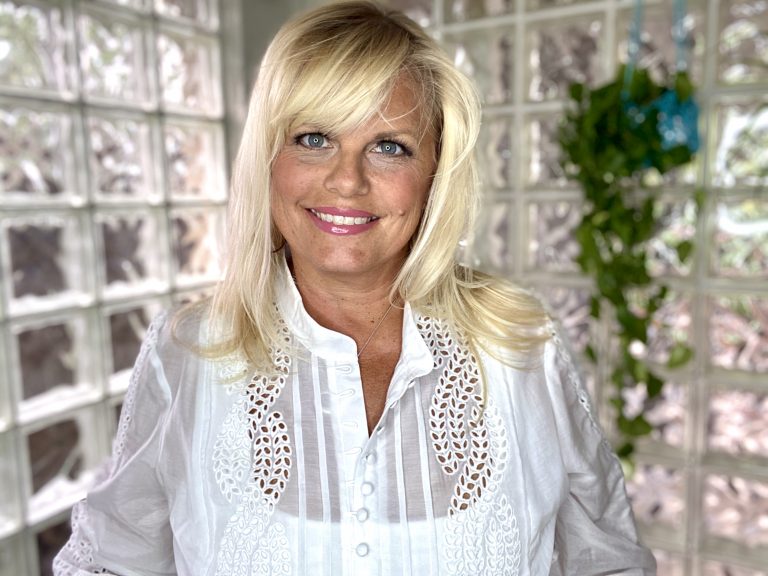 Kristin Omdahl is the best-selling author of dozens of knit and crochet books; designer of almost 1000 knit and crochet patterns; and producer of award-winning videos. You can join Kristin LIVE 5 days a week for The Kristin Omdahl Show on YouTube and browse through thousands of tutorial videos there, too. Kristin donates a portion of every sale to help survivors of domestic violence. Learn more about Kristin's charity, Project Kristin Cares HERE.
Shop all of Kristin Omdahl's knitting and crochet patterns, books and courses here:
I would love to see your creations. Just as much fun as making these myself is the satisfaction I get from seeing my designs come to life and other knit and crochet fans wearing them too. There are now 2 ways you can share what you have done!
I have recently added a wonderful new interactive section to the website which I invite you to take part in, it has been a smashing success and such fun so far. It is the new

"Share Your Project" section

. You, my creators, can upload images and descriptions of your creations to share with the ever growing community!

To upload simply click here. 

If you want to continue the party, join the KO Community Forums on my website. It is 100% PRIVATE! You can start or join forum posts, and even direct message others, too. Join the KO Community forums

HERE

 
Additionally, I host a livestreaming podcast, vlog or show weekday on my YouTube Channel called The Kristin Omdahl Show. You can join the audience and even ask me questions LIVE! I often do a show and tell, or quick demo and I always interact with the live audience. It is a lot of fun!
You can browse through over 1000 previously recorded episodes HERE: The Kristin Omdahl Show Playlist. Make sure to subscribe to my YouTube Channel to get reminders when the next episode airs LIVE.
You can also Refer-A-Friend and get rewarded, too! Learn more HERE
I look forward to seeing what you create!
xoxo,
Kristin