This week only December 1 – 7 get an additional 5% off your order!
Take an additional 5% off Hobbii Yarn's website with coupon code kristinomdahl5 at checkout! Simply copy and paste this code in the appropriate box to receive an additional 5% off your order. And if you spend over $99 you will also get free shipping! What a great deal. Hobbii Yarn website 
I recently placed my first order at Hobbii Yarn's website. You can read about the first Hobbii Yarn order unboxing HERE. But I was so excited about everything I did and didn't order that I placed a second order before the first one even arrived – and it came in two big bags! Scroll below to watch my Unboxing Hobbii Yarn video! My plan was to order small quantities of various yarns and colors to get a sampling of some of the yarns. It was very hard to narrow it down because they had great prices, gorgeous color selections and a great free shipping discount if I placed a large enough order.
Watch my Unboxing Hobbii Yarn Video HERE: This video will LIVE premiere on 11/30/2022 at 9:30am. Afterward you can watch the recorded version anytime at same link. Hope to see you in the live chat on Wednesday!
https://youtu.be/P1XY9iyDJe0
This yarn #5 bulky, 100% acrylic yarn. It is Oeko-tex certified and is spun by one of the best producers of acrylic yarns in the world. Forget about stiff and itchy acrylic! And it comes in a whopping 765 yds (700m) per 14.1oz (400g) ball! Wow! What CAN'T you make with this gigantic ball of yarn? A one ball afghan sounds exciting! So does a 1 ball poncho, a large duster cardigan or oversized hoodie pullover! What would you like to see me knit or crochet with this yarn?
This yarn is #4 worsted weight, 100% premium acrylic yarn that comes 180 yds per 100g ball. I was so inspired by the gorgeous color selections in these 10 ball packs that I couldn't resist just buying one! I ended up buying 2 packs in 2 separate colors to make some bigger projects – maybe a long coat or cardigan with beautiful color work or motifs. Or a modular construction afghan or shawl. It was hard to choose the colors – so many were beautiful. But I had to start somewhere and the neutral and the beach palettes really spoke to my heart. So many possibilities! What would you like to see me knit or crochet with this yarn?
This is 100% recycled cotton, #3 dk weight yarn that comes 82 yds per 50 gm ball. I knew in my heart I would love this yarn. First of all I love cotton, and I love dk weight, and I love the muted shades. Reminds me of when I used to hand dye organic cotton yarns. I love the way cotton takes the color in toned down shades. The price was so affordable too that I couldn't resist buying a 10 pack in each color and I finally narrowed the colors down to 3: purple, light blue and off white. Each one of these 10 ball packs will be 820 yards of dk weigh yarn – plenty to make a shawl, a top, a skirt or a vest. In combination (maybe color work or motifs) I could even make a maxi skirt, beach coverup or long sundress. So many possibilities and such pretty colors! What would you like to see me knit or crochet with this yarn?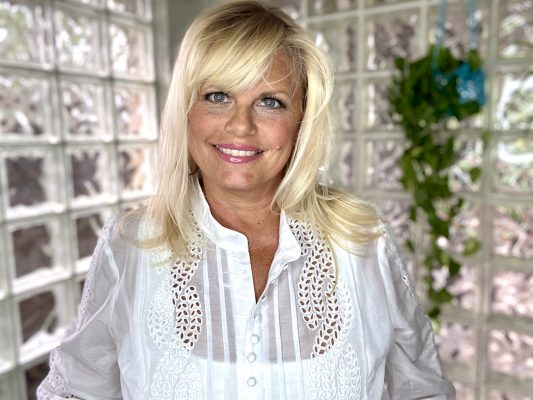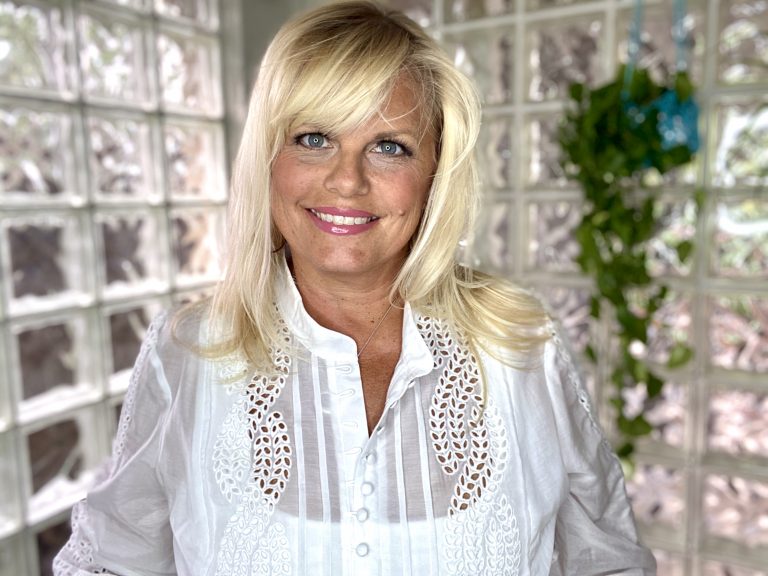 Kristin Omdahl is the best-selling author of dozens of knit and crochet books; designer of almost 1000 knit and crochet patterns; and producer of award-winning videos. You can join Kristin LIVE 5 days a week for The Kristin Omdahl Show on YouTube and browse through thousands of tutorial videos there, too. Kristin donates a portion of every sale to help survivors of domestic violence. Learn more about Kristin's charity, Project Kristin Cares HERE.
Shop all of Kristin Omdahl's knitting and crochet patterns, books and courses here:
I would love to see your creations. Just as much fun as making these myself is the satisfaction I get from seeing my designs come to life and other knit and crochet fans wearing them too. There are now 2 ways you can share what you have done!
I have recently added a wonderful new interactive section to the website which I invite you to take part in, it has been a smashing success and such fun so far. It is the new "Share Your Project" section. You, my creators, can upload images and descriptions of your creations to share with the ever growing community! To upload simply click here. 
If you want to continue the party, join the KO Community Forums on my website. It is 100% PRIVATE! You can start or join forum posts, and even direct message others, too. Join the KO Community forums HERE
Additionally, I host a livestreaming podcast, vlog or show weekday on my YouTube Channel called The Kristin Omdahl Show. You can join the audience and even ask me questions LIVE! I often do a show and tell, or quick demo and I always interact with the live audience. It is a lot of fun!
You can browse through over 1000 previously recorded episodes HERE: The Kristin Omdahl Show Playlist. Make sure to subscribe to my YouTube Channel to get reminders when the next episode airs LIVE.
You can also Refer-A-Friend and get rewarded, too! Learn more HERE
I look forward to seeing what you create!
xoxo,
Kristin