Gradient yarn, also known as ombre yarn, is a popular choice among crocheters and knitters alike. This type of yarn features a gradual change in color from one end of the skein to the other, allowing for a stunning visual effect when used in a project.
One of the benefits of using gradient yarn is that it allows for a unique and eye-catching finished product. Whether you're making a shawl, scarf, afghan or sweater, the gradual change in color adds a beautiful dimension to your creation. Additionally, gradient yarn can be used to create a variety of patterns and textures, making it a versatile choice for any project.
Another advantage of gradient yarn is that it can save you time and effort when it comes to color selection. Rather than spending hours choosing individual skeins to create a color scheme, gradient yarns are already pre-dyed in a cohesive color palette. This means you can spend more time knitting or crocheting and less time worrying about color choices.
When working with gradient yarn, it's important to note that the color changes may not be exactly the same from one skein to another. To avoid any abrupt changes in your finished project, it's recommended to alternate skeins every few rows.
Overall, gradient yarn is a fantastic choice for anyone looking to add a unique and visually stunning element to their knitting or crocheting projects. With its versatility and ease of use, it's no wonder why this type of yarn has become so popular among crafters of knitting and crocheting.
As gradient yarn continues to grow in popularity, it's important to understand the various types available and how they can be used in your projects. Here are some additional points to consider:
Types of Gradient Yarn:
Long-gradient yarn: This type of gradient yarn has longer color changes, typically spanning the length of the entire skein. It's ideal for projects where you want a subtle transition between colors.
Short-gradient yarn: With shorter color changes, this type of gradient yarn creates a more dramatic effect. It's perfect for projects where you want a bold and eye-catching look.
Self-striping yarn: While not technically gradient yarn, self-striping yarn features a series of colors that repeat in a stripe pattern. It's a great option for projects where you want a consistent color pattern.
Tips for Working with Gradient Yarn:
Choose a simple pattern: To let the gradient yarn shine, opt for a pattern that is simple and lets the colors be the focal point.
Consider the color placement: Depending on your project, you may want to start at a certain point in the skein to ensure the color changes are in the right place.
Use multiple balls of yarn so you can better control the color changes for symmetry in your projects.
Experiment with different stitch patterns: Gradient yarn can create a variety of effects depending on the stitch pattern used. Try different options to see what works best for your project.
Ultimately, gradient yarn is a versatile and stunning choice for any knitting or crocheting project. With its gradual color changes and ease of use, it's a great option for both beginners and experienced crafters alike.

Here are some knit and crochet patterns featuring gradient yarn for your crafting inspiration: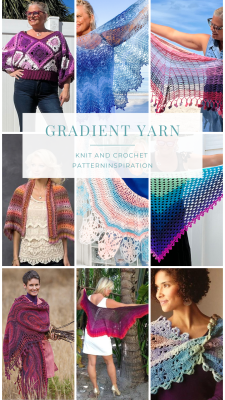 Featured knit and crochet patterns with gradient yarn, from top to bottom, right to left:
Dahlia crochet top pattern
Gracie knit shawl pattern
Sprout crochet shawl pattern
Sunset Wrap knit shawl pattern
Stellaluna crochet shawl pattern
Labyrinth crochet scarf pattern
Infinity Wrap crochet shawl pattern
Marilyn knit shawl pattern
Pompeii crochet mobius pattern
Here are some of my favorite gradient yarns:
Kristin Omdahl patterns, books, handouts and videos are for your personal use only; additionally, up to 10 items can be made to sell from one design. Commercially produced products made from my instructions are prohibited. All Kristin Omdahl patterns, books, handouts and videos are licensed for single use and remain the intellectual property of Kristin Omdahl. This pattern may not be reproduced or transmitted in any form or by any means, electronic, mechanical, photocopying, recording or otherwise.
©Copyright 2023 All Rights Reserved
How Do I Download My Pattern or eBook?
Once payment is received, you will receive an email containing a download link button for the PDF pattern. If you do not receive your email immediately, please check your spam filters. If you are logged into your account at the time of purchase, you will also have 24/7 access and unlimited downloads to your pattern in your downloads library in your account section of the Kristin Omdahl website. All patterns are written in standard US terms. NO refunds on digital products.