Kristin Omdahl is the best-selling author of 22 how-to craft books (and counting); TV personality; and producer of award-winning educational and inspirational videos. Kristin is the founder of Project Kristin Cares, her charity dedicated to helping survivors of domestic violence. Together we can make a difference! Your support of the Kristin Omdahl Brand allows us to work together to help fellow survivors of domestic violence. Kristin is celebrating the 18th anniversary of her business this year.
From humble beginnings learning to knit and crochet while pregnant with her son 21 years ago, Kristin has been involved in nearly every aspect of the fiber industry. She was the crochet expert on "Knitting Daily TV" for 10 seasons and now is the host of a popular YouTube Channel where she teaches knitting and crochet, interacts with her audience with regular questions and answers, and so much more. Kristin is the author, designer and maker of so many thoughtful and gorgeous patterns and books. 
Kristin is a cast member of "Knit & Crochet Now!" Seasons 11, 12 and 13 are airing on PBS and Create Channel right now! Look for Kristin on seasons 10, 11, 12, 13 now! Check your local listings for PBS or Create Channel – check your zip code HERE. Or download the entire season plus patterns at Annie's.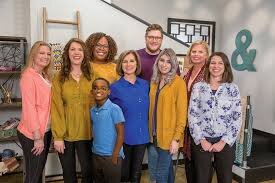 This is one of my favorite photos! It is a product shot of Sweet Clara Crochet Top and Crystal Chain Necklace (both free patterns). But what you don't see is that my son is taking the photo and we are dodging the cottonmouth snakes slithering in the hot gravel behind me! There was only a short window of time before the summer afternoon storms rolled in, and we were trying to get the shot without a snake disaster!
Kristin's Book Bibliography:
Crochet Power 2: Edgings, 2022
Crochet Power: Making Stitch Patterns Work For You, Volume 1, 2022
24 Crochet Hats, 2021
Be So Caring, Volume I, 2020
52 Crochet Gifts, 2020
88 Crochet Stitch Encyclopedia, 2019
Layers: 19 Knit Projects to Fit, Flatter & Drape, 2019
Layers: 18 Crochet Projects to Fit, Flatter & Drape, 2019
Create Share Inspire, Volume I, Issues 1 – 7, 2019
Crea Comparte Inspira, Volumen I, Periodias 1 – 7, 2019
80 Handmade Gifts, 2018
Motif Magic, Volume 1, 2018
Continuous Crochet, 2016
Crochet So Lovely, 2015
Zen Art: A Coloring Book, 2015
I Taught Myself to Knit 18" Doll Clothes, 2015
I Taught Myself to Crochet 18" Doll Clothes, 2015
Beginners Guide to Knitting In the Round, 2014
Knitting Outside the Swatch, 2013
The Finer Edge, 2013
Complements Collection, 2012
A Knitting Wrapsody, 2011
Seamless Crochet, 2011
Crochet So Fine, 2010
Wrapped In Crochet, 2008