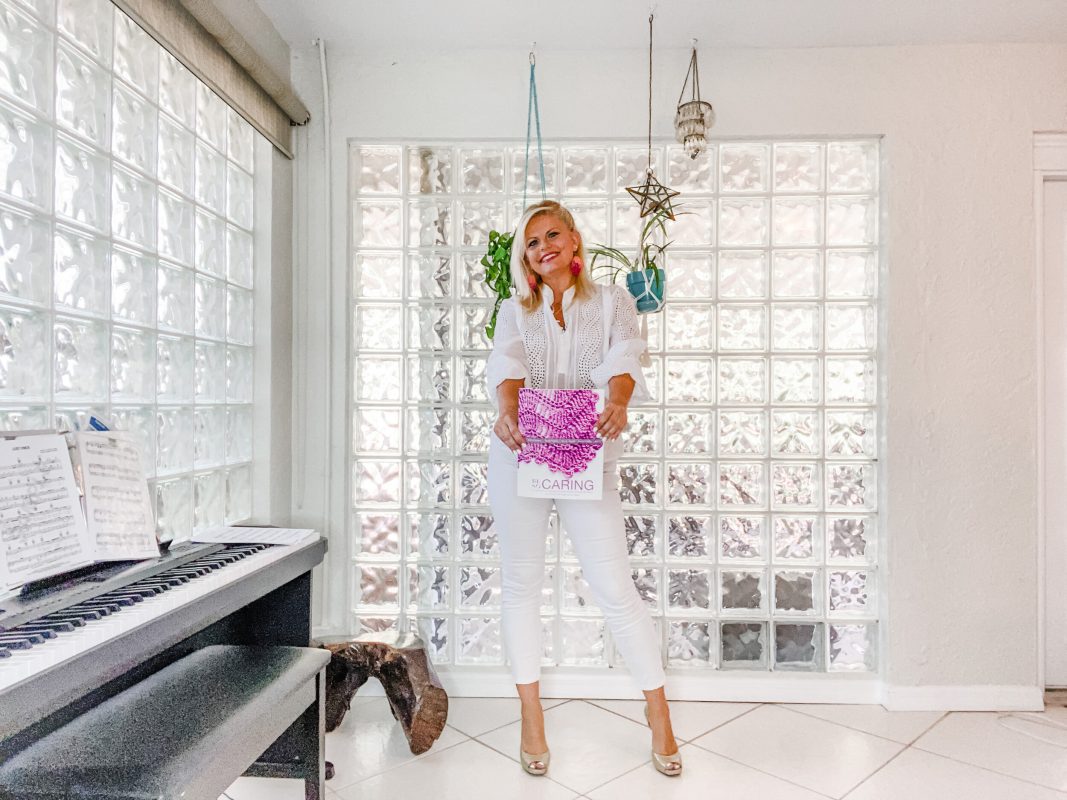 "Be So Caring: A Collection of Thoughtful Gifts for the Friends We Know and Those We Have Yet To Meet" by Kristin Omdahl
Making things with our hands is the most intimate way we can express our love through gifts. Whether you are making a blanket for a new baby in your family, a shawl for someone getting married, or a hat for a sick friend, we have the ability to infuse our love and intentions into every single stitch. This is so powerful.
This collection of crochet patterns offers great gift ideas for anyone from a preemie baby through a large man. They are wonderful options for the friends you love and donations for the friends you have yet to meet.  As crafters we have a unique ability to touch others' lives with amazing gifts of handcrafted comfort.
My new initiative with Project Kristin Cares is to create the Be So Helpful Bags. These thoughtful unisex go-bags include many comforting items for anyone who is in a difficult or challenging situation. 100% of the proceeds of this book help me to send Be So Helpful Bags to shelters across the USA every month. You may purchase Be So Helpful Bags to donate or gift at any time.  There's even enough room to add your own handmade item for that extra-special touch. Learn more at KristinOmdahl.com/PKC
Crochet Projects in Be So Caring Book: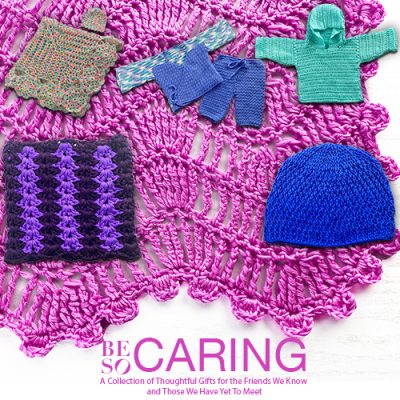 Dora Preemie Hat & Blanket:
for hat, small motif is 3.5 in (8.9cm) in diameter. For blanket, gauge is not critical, however center motif is 5 in (12.7cm) diameter.
Be So Baby Yarn, color Birthday Cake; 1 ball for hat and 5 balls for blanket.
Stevie Baby Kimono Top & Pants:
to fit newborn (3mo, 6mo, 1-2yr, 2-4yr, 4-6yr, 6-8yr, 8-10yr).
Be So Baby Yarn, Sweater: color A Seaside Siesta, 1 (2, 2, 2, 2, 2, 2, 2) balls, color B Periwinkle, 1 (2, 2, 2, 2, 2, 2, 2) balls.
Pants: Periwinkle, 2 (2, 2, 3, 3, 3, 3, 4) balls.
Charley Child Hoodie Pullover:
to fit newborn (6mo, 12mo, 2-4 yrs, 4-6yrs, 6-8yrs, 8-10yrs).
Be So Baby Yarn, color Turquoise, 3 (3, 3, 4, 4, 4, 5) balls.
Riley Cowl:
25 in (63.4cm) circumference x 11 in (28cm) tall.
Be So Baby Yarn, colors Eggplant 3 balls and Violet 3 balls.
Mary Jane Shawl:
30 in (76.2cm) wide x 72 in (182.9cm) long.
9 balls Be So Baby Yarn in color Orchid.
Taylor Textured Hat:
Sized to fit newborn (toddler, child, woman, man). Shown in man's size.
Be So Baby Yarn, color Mykonos Blue, 1 (1, 2, 2, 2) balls.
About the Author of Be So Caring Book:
Kristin Omdahl is the best-selling author of dozens of knitting and crochet books; curator of thoughtful products and gorgeous yarns, many of which Kristin hand dyes in her Florida studio; producer of award-winning educational and inspirational videos; and founder of the charity Project Kristin Cares. Join Kristin LIVE for her daily video podcast, Create Share Inspire. Be So Caring is Kristin's 19th book and 6th independently published book. 100% of the proceeds of this book are donated to Project Kristin Cares. Learn more at KristinOmdahl.com/pkc
Where you can find Be So Caring Book:
Get an autographed copy at Kristin's website HERE
Get an instant download ebook at Kristin's website HERE
Shop Amazon Prime worldwide:
Amazon USA HERE
Amazon UK HERE
Amazon Germany HERE
Amazon France HERE
Amazon Spain HERE
Amazon Italy HERE
Amazon Japan HERE
Amazon Canada HERE
Amazon Australia HERE
Amazon Brazil HERE
Amazon Mexico HERE
Amazon UAE HERE
Amazon India HERE
Amazon Netherlands HERE