Tag Archives:
bamboo yarn
Kristin Omdahl is your #1 go-to online source for beautiful, flattering and lacey knit and crochet patterns featuring bamboo yarn that are fun to make! Check it out today! Some of the bamboo yarn crochet patterns free and some are ad-free pdf patterns to download. Some of the bamboo yarn knit patterns free and some are ad-free pdf patterns to download.
Bamboo yarn can come in any weight from thin yarn to thick yarn and it can also come as 100% fiber source or blended with other fibers like cotton, wool, alpaca and many others. Bamboo yarn is easy to knit and crochet with, has incredible drape and is made from bamboo – one of the most sustainable fibers in the world.
In this category, browse through hundreds of gorgeous knit and crochet patterns many of which include detailed photos, charts and supplemental video tutorials.
Kristin Omdahl is the best-selling author of dozens of knit and crochet books; designer of almost 1000 knit and crochet patterns; and producer of award-winning videos. You can join Kristin LIVE 5 days a week for The Kristin Omdahl Show on YouTube and browse through thousands of tutorial videos there, too. Kristin donates a portion of every sale to help survivors of domestic violence. Learn more about Kristin's charity, Project Kristin Cares HERE.
Shop all of Kristin Omdahl's knitting and crochet patterns, books and courses here: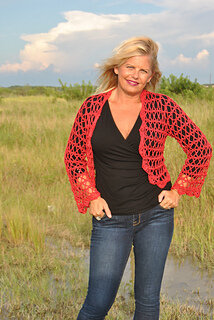 X marks the spot with the Jewel crochet shrug free pattern – it is a [...]
1 Comment