Heart Throb Knit Shawl Free Pattern Page by Kristin Omdahl
Download the ad-free PDF pattern HERE
This is a simple top down knit triangular shawl that has a show stopper edging. The self striping yarn accentuates the multi directional construction of this shawl with pretty stripes for the shawl and a graduating side to side color change in the gorgeous scalloped edging.
What you will need:
612 yds (560m) #4 worsted weight yarn
US 10 (6mm) circular knitting needles
US 10 (6mm) double pointed knitting needles
Yarn needle
Scissors
Shown in: 
Be So Vivid Yarn; 70% cotton, 30% acrylic, #4 worsted weight, self striping yarn; 306 yds (280m) per 3.5oz (100g) ball; shown in color Heart Throb, 3 balls.
Finished Size:
28 in wide x 72 in long.
Gauge:
Each pattern repeat is 4 in (10cm) wide after blocking.
Stitch Guide:
Cast on (co), bind off (bo), knit (k), purl (p), yarn over (yo), and three needle bind off.
Instructions:
CO 5 sts.
Row 1: K1, *yo, k1. Rep from * across. — 9 sts
Row 2 (and all even numbered rows): Knit across.
Row 3: K1, yo, k3, yo, k1, yo, k3, yo, k1. — 13 sts
Row 5: K1, yo, k5, yo, k1, yo, k5, yo, k1. — 17 sts
Row 7: K1, yo, k7, yo, k1, yo, k7, yo, k1. — 21 sts
Row 9: K1, yo, k9, yo, k1, yo, k9, yo, k1. — 25 sts
Row 11: K1, yo, k11, yo, k1, yo, k11, yo, k1. — 29 sts
Continue in established pattern, increasing by 4 sts every odd numbered row.
Row 99: K1, yo, k99, yo, k1, yo, k99, yo, k1. — 205 sts
Row 100: Knit across. — 205 sts
Edging:
Note: If you modify this pattern, the edging requires a stitch count on the last row of the shawl, before beginning the edging, to be a multiple of 5 sts.
Row 1:  Beginning with the first 3 shawl stitches, yo, k1, kfb, yox2, k1, leave remaining sts unworked. — 6 sts
Row 2: Yox2, k2tog (dropping second loop of double yo from previous row), k4.
Row 3: Yox2, k2tog, k4 (dropping second loop of double yo from previous row).
Rows 4 – 21: Rep row 3 until there are 10 loops on ea side of the strip.
BO as follows: 
Hold work with the shawl on your left, the edging on your right, and the tips of the needles pointing toward opposite sides. With dpn, pick up each of the 10 loops along the edge closest to the live shawl sts one at a time from back to front, just putting the loops on the needle, not picking them up and knitting them (see photo 1). 
With right needle tip, *pass second loop o9ver first loop and off the needle; rep from * 11 more times — 1 loop remains on dpn (see photo 2).
Place this stitch on right needle tip and pass live strip st over this loop, pull working yarn to tighten, then return last st to right needle tip. — 6 sts on right needle tip (counting double yo as 1 st) (see photo 3).
Turn right needle around and place on top of left needle so that RS are facing together and both needle tips point to the right (see photo 4).
Holding both needles parallel, [insert tip of dpn into first 2 strip sts (as if to k2tog) on the front needle and into the first shawl st on the back needle (see pic 5) and knit these 3 sts together]x2, then pass  first st over second stitch and off needle, 1 stitch bound off. Insert left tip of dpn into next 2 strip sts (as if to k2tog) while dropping second loop off double yo, and into the next shawl st on and knit these 3 sts together. Pass the first st over the second st and off the needle (1 st remains) (see photo 6). 
Return this st to the left needle tip.
Rep from Row 1 for each scalloped shell.
Finishing:
Weave in loose ends. Hand wash, block to finished measurements and allow to dry.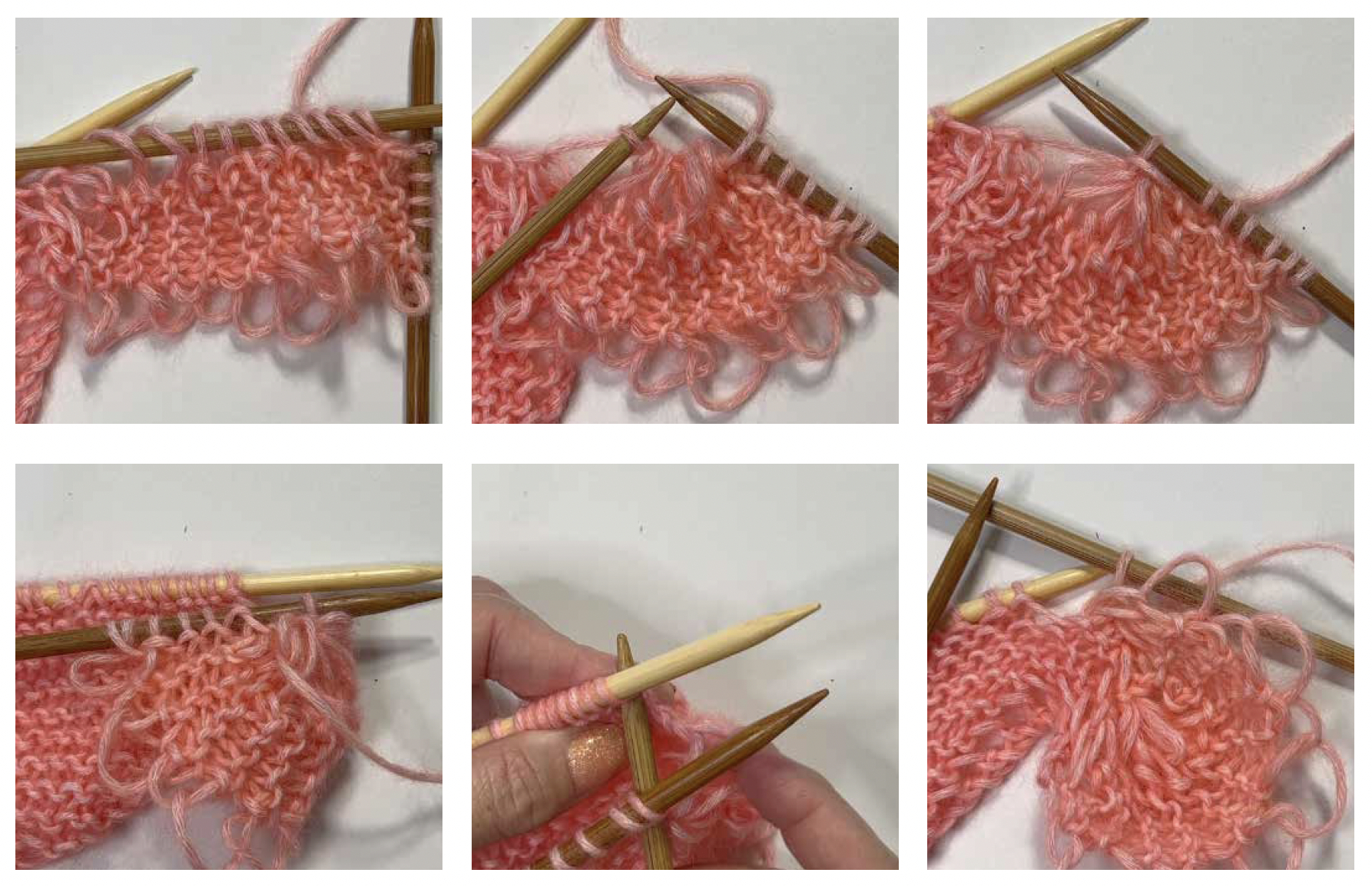 Kristin Omdahl patterns are for your personal use only and not to be used to create items for commercial gain. All Kristin Omdahl patterns are licensed for single use and remain the intellectual property of Kristin Omdahl. This pattern may not be reproduced or transmitted in any form or by any means, electronic, mechanical, photocopying, recording or otherwise.
©Copyright 2022 All Rights Reserved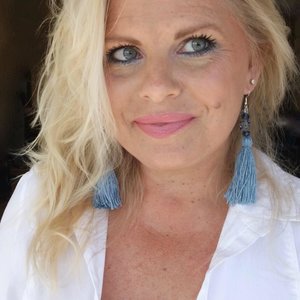 Kristin Omdahl is the best-selling author of dozens of knit and crochet books; designer of almost 1000 knit and crochet patterns; producer of award-winning videos; and curator of gorgeous yarns and products. You can join Kristin LIVE 5 days a week for The Kristin Omdahl Show on YouTube and browse through thousands of tutorial videos there, too. Kristin donates a portion of every sale to help survivors of domestic violence. Learn more about Kristin's charity, Project Kristin Cares HERE.
Shop Kristin Omdahl Yarns HERE
Shop Kristin Omdahl Crochet Patterns HERE
Shop Kristin Omdahl Knitting Patterns HERE
I would love to see your creations. Just as much fun as making these myself is the satisfaction I get from seeing my designs come to life and other knit and crochet fans wearing them too. There are now 2 ways you can share what you have done!
I have recently added a wonderful new interactive section to the website which I invite you to take part in, it has been a smashing success and such fun so far. It is the new

"Share Your Project" section

. You, my creators, can upload images and descriptions of your creations to share with the ever growing community!

To upload simply click here. 

And if you want to continue the party, join the KO Community Forums on my website. It is 100% PRIVATE! You can start or join forum posts, and even direct message others, too. Join the KO Community forums

HERE

 
Additionally, I host a livestreaming podcast, vlog or show weekday on my YouTube Channel called The Kristin Omdahl Show. You can join the audience and even ask me questions LIVE! I often do a show and tell, or quick demo and I always interact with the live audience. It is a lot of fun!
You can browse through over 1000 previously recorded episodes HERE: The Kristin Omdahl Show Playlist. Make sure to subscribe to my YouTube Channel to get reminders when the next episode airs LIVE.
Join the KO Community for a PRIVATE forum to chat with other KO friends HERE
And you can also Refer-A-Friend and get rewarded, too! Learn more HERE
I look forward to seeing what you create!
xoxo,
Kristin