Choose from 60 Gorgeous Colors of Be So Baby Yarn!
Be So Baby Yarn is #3 dk weight, 100% milk (casein) fiber, and comes in 142 yd (130m) per 50 gram balls. Choose from 60 gorgeous colors of this super soft and lustrous yarn.
Suggested crochet gauge:
12 – 17 sts = 4 in (10cm)
E/4 (3.5mm) – H/8 (5.0mm)
Suggested knitting gauge:
21 – 24 sts = 4 in (10cm)
US 5 (3.75mm) – US 8 (5.0mm)
Use the delicate cycle and wash in cool water. Dry with low heat. We recommend washing all handmade items in a laundry bag to avoid damage from other items in machine – zippers, buttons, etc…
I adore color theory and combining colors together for my knit and crochet projects!
With 60 colors of Be So Baby Yarn I know it may seem overwhelming to choose colors for your knit and crochet projects. I have organized every color into color families in this blog post to help you see the subtle variations between similar colors and also described the nuances, too.
You can also order a colorcard if you would like physical samples of each color shipped to you. The colorcard is labor intensive to make by hand, and when they are back in stock they sell out quickly. If you are interested and they happen to be sold out, please add your email address to the waitlist and you'll be notified immediately when they come back in stock. That applies to all products in my shop as well.
Color Terminology for Understanding my Color Descriptions of all 60 colors of Be So Baby Yarn:
As you know, I am passionate about color! Here are a few key terms about color to keep in mind when ready my color desriptions below:
 If white is added to a color, the lighter version is called a "tint". If the color is made darker by adding black, the result is called a "shade". And if gray is added, each gradation gives you a different "tone".
Primary colors: This definition has many variants. The colors that are seen when sunlight is split by a prism are sometimes called the spectral colors. These are red, orange, yellow, green, blue, indigo, and violet. These ROYGBIV colors are often reduced to three "red, green, and blue-violet" which are the primary colors for the additive color system (light). The primary colors for the subtractive color system (paint/pigment) are "cyan, magenta and yellow."
And what you might remember from grade school is: Red + Yellow = Orange. Yellow + Blue = Green. And Blue + Red = Purple. There are so many nuances within Color Theory and dozens of other vocabulary words but this will suffice for my descriptions of the 60 colors of Be So Baby Yarn.
Here is the orange-coral-pink-red color family of Be So Baby Yarn: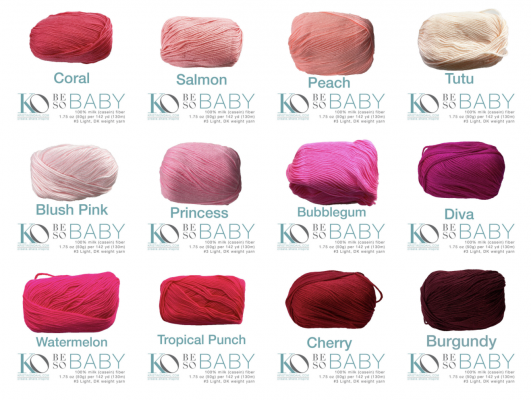 Coral is a pink-orange that I would say is more pink than orange. Salmon is much more muted than coral. Peach is bright and more orange than pink. Tutu is a very pastel, muted peach. Notice that Tutu is a very pale peach and Blush Pink is a very pale pink. Princess is a classic, bright baby pink. Bubblegum is a very bright, happy pink. Diva is a bright raspberry pink. Notice that Watermelon and Tropical Punch are both very bright reds but Watermelon is more pink and Tropical Punch is more orange. Cherry is a deeper crimson red. And Burgundy is a much darker wine red.
Here is the yellow-green color family of Be So Baby Yarn: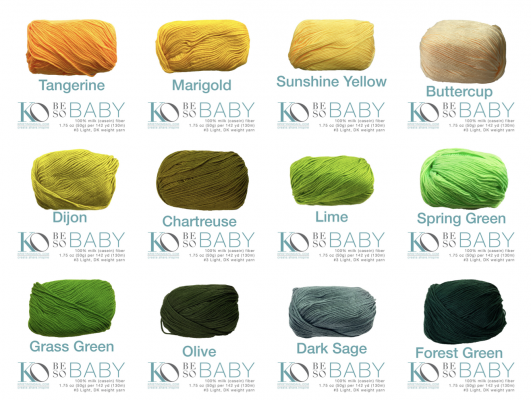 Tangerine is a soft, warm orange, not too bright. Marigold is a warm, orange-yellow. Sunshine Yellow is just as the name describes – bright and cheerful, classic yellow. Buttercup is a softer and more muted yellow. Dijon is a mustardy yellow-green. Chartreuse is a darker shade of yellow-green that has more green than yellow. Lime Green and Spring Green are both bright, vibrant greens – lime being a darker shade and spring being a lighter tint. Grass green moves closer to green from yellow and is a darker shade than lime. Olive is a dark shade of yellow-green much darker than chartreuse. Dark Sage is a dark green with gray tones. And Forest Green is the darkest shade of green in the color palette.
Here is the green-blue color Family of Be So Baby Yarn: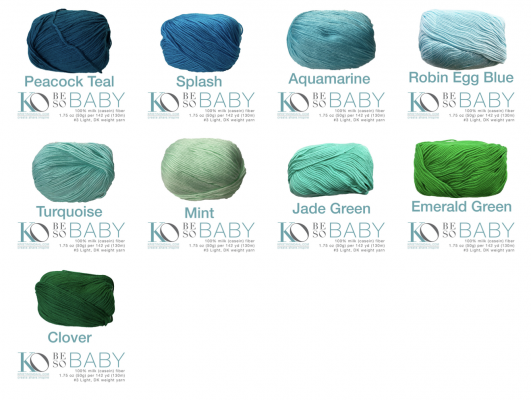 Peacock Teal is the darkest teal shade in the blue-green color family. Splash is a lighter tint of teal than peacock teal. Aquamarine, Robin Egg Blue, and Turquoise are similar but hopefully side by side you can see the differences, too. Aquamarine is a darker shade of blue-green than is more blue than green. Robin Egg Blue is a lighter tint of a blue-green that is more blue than green. And Turquoise is a blue-green that is more green than blue. Mint is a lovely pastel tint of green. Jade Green is a bright blue-green that is more green than blue. Emerald Green and Clover are both primary green but Emerald is a brighter and lighter tint and Clover is a deeper shade.
Here is the blue-purple color family of Be So Baby Yarn: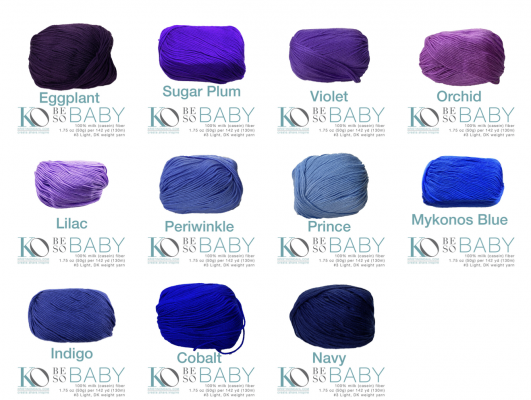 Eggplant is the deepest shade of purple in the blue-purple color family. Sugar Plum is a bright and vibrant deep shade of purple. Violet is a slightly softer tint than sugar plum. Orchid is a medium shade of red-violet. Lilac is a bright pastel purple. Periwinkle is a medium shade of blue-violet. Prince is a blue-violet that is much more blue than violet. Mykonos Blue is a very bright tint of primary blue and Cobalt is a very bright and darker shade of primary blue. Indigo is a dark shade of blue violet that is more blue than violet. Navy is a classic dark shade of primary blue.
Here is the neutral color family of Be So Baby Yarn: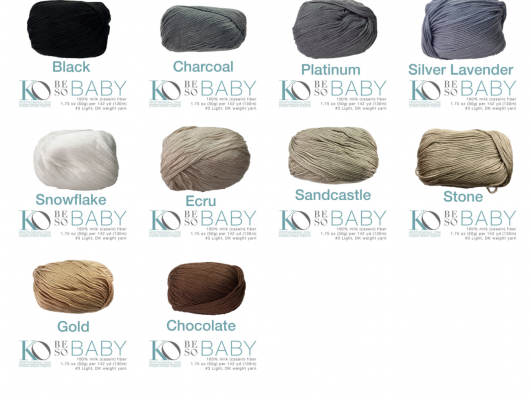 Black is a solid, jet black. Charcoal is the darkest shade of gray in the color palette. Platinum is a lighter shade than Charcoal. And Silver Lavender is the lightest shade of gray and has a subtle tint of lavender to it, too. Snowflake is pure white. Ecru is a light natural color that is darker than off-white but lighter than a tan. Sandcastle and Stone are quite similar except I would say that sandcastle is a cooler tan and stone is a warmer tan. Gold is the warmest of the tan neutrals in the color palette. Chocolate is a medium, warm tone brown.
Here is the variegated color family of Be So Baby Yarn: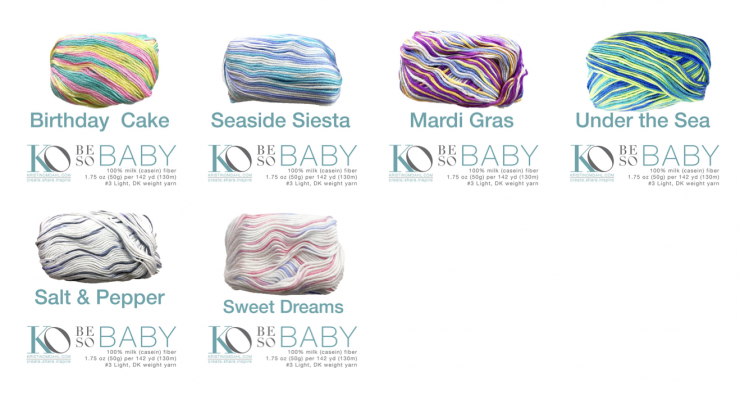 I get asked a lot of questions about what solid colors of Be So Baby Yarn correlate with the variegated colors. While the variegated colors are great on their own, and fun to mix and match – like mixing prints! However, if you are looking to match solids with variegated colors, here are my suggestions:
Birthday Cake matches well with aquamarine, princess and buttercup. Seaside Siesta matches well with snowflake, periwinkle and aquamarine. Mardi Gras matches well with snowflake, marigold, periwinkle and orchid. Under The Sea matches well with Mykonos blue, indigo and spring green. But looks nice with many of the blue-green family, too. Salt & Pepper matches well with snowflake and any of the grays (charcoal, platinum or silver-lavender) because the gray section moves from darker to lighter shades in between the white sections. It also looks great with the warmer neutrals for contrast. Sweet Dreams matches well with snowflake, periwinkle and salmon.
How to Make a Rainbow Palette with Be So Baby Yarn:
You can make several variations of a rainbow palette with Be So Baby Yarn. A rainbow aka ROYGBIV is red, orange, yellow, green, blue, indigo and violet. You could work within primaries, pastels, brights, or mix them up. But there are many colors of Be So Baby Yarn to choose from for each representation of a rainbow palette! Have fun!
Suggested tools for Color Theory to Mix and Match for Colorwork Knit & Crochet Patterns:
If you watch my Create Share Inspire Podcast (livestream on my YouTube Channel daily at 9am ET for 30 minutes, you will be familiar with my love of color theory. I like to use cardboard color wheel tools for demonstrating color theory on the show, and showing how easy and fun it is to mix and match 2, 3, 4, 5, or more colors together! Sometimes I take live audience suggestions and put together color patettes on the fly! It keeps me on my toes, but I love the spontaneity of taking live requests! This is my favorite colorwheel tool that I use on the podcast:
Suggested Knit and Crochet Patterns for Be So Baby Yarn:
You can browse all of my #3 dk weight crochet patterns HERE
You can browse all of my #3 dk weight knitting patterns HERE
What is Be So Baby Yarn Made Of?
You may be wondering what is milk yarn? Milk yarn is a bio-synthetic yarn made by dehydrating and skimming milk, then extracting the proteins.  The proteins can then be liquidized and spun.
It is lustrous and soft, which are generally properties of natural fibers but with benefits of synthetics. It produces a strong fiber that is eco-friendly, hypoallergenic and feels great next to the skin. It is wonderful for babies, children and sensitive skin.  It is also antibacterial and anti-fungal because amino acids are present in the fiber.
Yarn fibers are usually categorized as either animal, plant or synthetic (man made).  Synthetic yarns can be further broken down into petroleum based (e.g. nylon, acrylics) or bio-synthetics.   Milk yarn is a bio-synthetic and has been around since the 1930s!
Browse knit and crochet patterns featuring Be So Baby Yarn here:
Shop Kristin Omdahl Yarns HERE
Shop Kristin Omdahl Crochet Patterns HERE
Shop Kristin Omdahl Knitting Patterns HERE
I would love to see your creations. Just as much fun as making these myself is the satisfaction I get from seeing my designs come to life and other crochet fans wearing them too. There are now 2 ways you can share what you have done!
Share yours by joining  Create. Share. Inspire on Facebook where you can interact with me as well as many other members who have a love of knitting and crochet just like you! It is a wonderful and safe place to share your photos of finished projects in my knitting or crochet patterns or yarns, and to see what others are making, too.
I have recently added a wonderful new interactive section to the website which I invite you to take part in, it has been a smashing success and such fun so far. It is the new "Share Your Project" section. You, my creators, can upload images and descriptions of your creations to share with the ever growing community! To upload simply click here. 
Additionally, I host a livestreaming podcast weekday on my YouTube Channel called Create Share Inspire Podcast. You can join the audience and even ask me questions LIVE! I often do a show and tell, or quick demo and I always interact with the live audience. It is a lot of fun!
You can browse through close to 1000 previously recorded episodes HERE: Create Share Inspire Podcast Playlist . Make sure to subscribe to my YouTube Channel to get reminders when the next episode airs LIVE.
I look forward to seeing what you create!
Kristin donates a portion of every sale to her charity Project Kristin Cares, which supports survivors of domestic violence. Learn more at KristinOmdahl.com/PKC 
xoxo,
Kristin