24 Crochet Hats Book: Interesting Techniques and Inclusive Sizing for Men, Women, Children and Babies: Personalized and Autographed By Kristin Omdahl
In this crochet hat book collection, I designed two dozen hats in a wide variety of crochet techniques and offer the patterns in a wide range of sizes. I would love for this book to become your go-to resource for making hats for anyone and for building your crochet skills. Maybe hairpin lace in the round is new to you – if you make the crown motif in the Nina Hat (p. 68) you will now know how to make a circular motif in hairpin lace that you can use for other projects.
You can also purchase this paperback 24 crochet hat book on Amazon HERE or, download the ebook HERE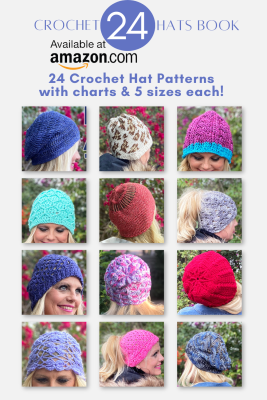 Maybe you would like to make a matching cowl or scarf for any of the hats worked in a side-to-side manner such as the Alexa (p.19), Flora (p.31), Jamie (p.41), Milo (p.64), you could simply omit the steps of joining into a tube or cinching the crown shut.
Hats are quick projects that make wonderful gifts. Keeping a stash of hats on hand means you'll always be prepared for unexpected gifting occasions. If you are interested in selling them, hat projects are relatively low in labor costs.
Another interesting aspect of a hat book with a wide range of sizes is that you can make a collective gift for a group: a 'mommy (or daddy) and me' gift set Abigail (p.15), Reina (p.81); a coordinating older sibling and matching baby hat; or maybe a matching set for a whole family as a holiday gift.
I hope you enjoy the many facets of this collection as much as I do. Let us make time to create, share and inspire – today and every day.
xoxo, Kristin
Visit "24 Crochet Gifts Book" information page for details on all the hats and material requirements for each pattern in the book HERE.
And the supplemental video tutorials for 24 Crochet Gifts Book will be found in this playlist on my YouTube Channel HERE
Browse more Kristin Omdahl books HERE
Browse Kristin Omdahl single PDF patterns HERE
Browse Kristin Omdahl Free Patterns HERE
Kristin Omdahl Ravelry Store HERE
Kristin Omdahl Etsy Store HERE
Kristin Omdahl Patreon HERE