Be So Scrubbi Yarn by Kristin Omdahl
100% polyester, textured yarn; 84 yds (77m) per 1.24oz (35g)
This is a #3 dk weight, uniquely textured yarn that is excellent for scrubbing, cleaning and gentle exfoliation. Make dishcloths, scrubbers or mitts for cleaning your pots and dishes; or for scrubbing your floors or tiles; and make washcloths, mitts or loofahs for gently exfoliating your skin!
The texture of Be So Scrubbi Yarn makes cleaning up so quick and easy. Because this yarn is polyester, it also dries more quickly than traditional cotton yarns used for dishcloths, pot scrubbers and loofahs.
Be So Scrubbi Yarn comes in Pearl White color. Replace your knit and crochet scrubbing projects when the color is no longer fresh.
This yarn retails for $2.99 per ball. Order 10 balls for a bulk discount of 15% HERE!
Order a 8.5oz or 16.9 oz bottle of Be So Clean Soap and get a full size ball of Be So Scrubbi Yarn for FREE!
Suggested knitting needles size range:
US 6 (4mm) – US10 (6mm) knitting needles
Suggested crochet hook size range:
G/6 (4mm) – J/10 (6mm) crochet hook
Check out crochet patterns featuring Be So Scrubbi Yarn HERE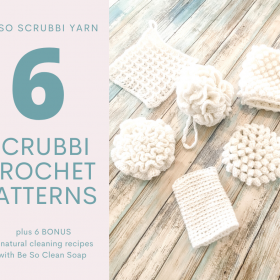 The family of Kristin Omdahl Yarns are 100% thoughtfully sourced and 100% gorgeous. All of Kristin Omdahl Yarns are supported with professional, well written and beautiful knit and crochet patterns, many of which are supported with supplemental tutorial videos, too. Browse other quality Kristin Omdahl products including tools, books, and so much more in the Store.
A portion of every sale funds Kristin's charity Project Kristin Cares, helping people affected by domestic violence.