For a long time now, I have wanted an arena in which everyone could inspire each other with their creations.  While I know many of you appreciate seeing my versions of various projects, it's a lot of fun and very motivating to see the special spin that others put on completing beautiful projects their very own way.
That's why, in our new restyling of this website, we added in a section called Share Your Project. All you have to do is click, add your info, any background story including who you made it for, why, how you will wear it, anything you feel is important, and submit!
So far, we have been floored with the beautiful pieces that have come pouring in and I am so proud of each and every one of you who have contributed. As a crochet and knit pattern designer you have no idea how much it means to me to see my ideas come to life being knit, crocheted, worn, and given as keepsakes and gifts all over the world.
Every single entry that comes in warms my heart.
Today's spotlights shines brightly on Jo Atwood, username JoJoa0808. She submitted her version of the Thalia Crochet Dress Pattern.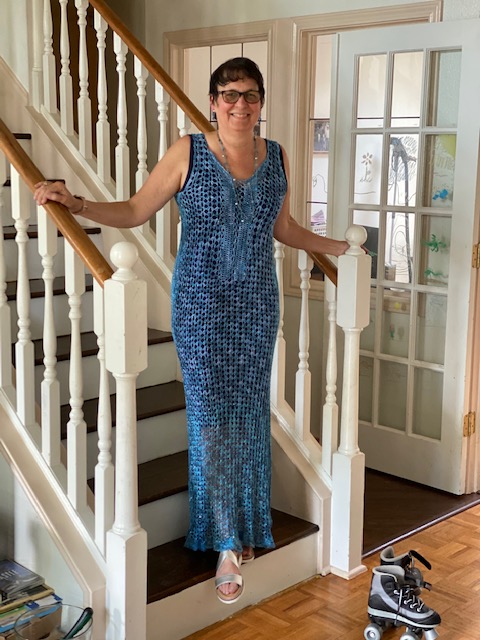 Jo looks stunning in her dress created in Be So Fine Deep Blue Sea Bling Yarn. Learn more about her story here!
Crocheting and knitting take time, dedication, patience, and skill. It's a once nearly lost art that is making a massive revival and we are all in the forefront of the movement.
So, what are you waiting for? It's time for some credit where credit is due! Snap a few pictures and tell us about you and your personalized creations! You just may find yourself featured in one of my blogs!
Want more interaction? Join us on our Facebook group! Share yours by joining  Create. Share. Inspire on Facebook where you can interact with me as well as many other members who have a love of knitting and crochet just like you! It is a wonderful and safe place to share your photos of finished projects in my knitting or crochet patterns or yarns, and to see what others are making, too.
I host a livestreaming podcast weekday on my YouTube Channel called Create Share Inspire Podcast. You can join the audience and even ask me questions LIVE! I often do a show and tell, or quick demo and I always interact with the live audience. It is a lot of fun!
You can browse through almost 800 previously recorded episodes HERE: Create Share Inspire Podcast Playlist . Make sure to subscribe to my YouTube Channel to get reminders when the next episode airs LIVE.
I look forward to seeing what you create!
xoxo,
Kristin