The Hooktionary is a wonderful stitch reference book for all crocheters. Most interestingly there are a variety of stitches used to enhance specific designs, including single crochet through the back loop only (sc-blo), center or split single crochet, center or split single crochet through the back loop only, extended single crochet (esc), and front post double crochet.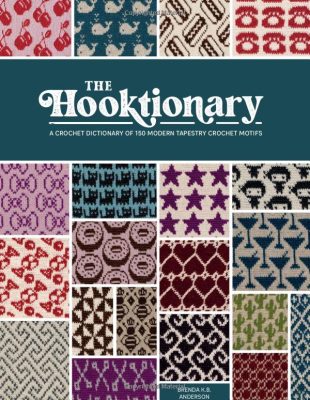 About The Hooktionary, From Amazon:
Create bold, modern and fun tapestry crochet designs with this unique crochet stitch dictionary!

One of the most important tools in any crocheter's toolbox is a stitch dictionary – an essential reference packed with possibilities. The Hooktionary is the first and only crochet stitch dictionary to feature tapestry crochet motifs. And it has personality to boot! From unicorns and bumblebees to bold, graphic designs, the 150 motifs this book includes are perfect for the modern maker. Plus, five 'choose your own adventure' projects allow you to mix and match motifs into one-of-a-kind designs that reflect your own tastes.
Inspired by Andrea Rangel's Alterknit Stitch Dictionary, Brenda K.B. Anderson has created a crochet counterpart so that crocheters can join in the fun too. Unlike other tapestry crochet pattern collections, which focus on single crochet stitches – creating slanted color patterns which do not create clean lines – Anderson has used her experience of which kinds of crochet stitches pair well with tapestry crochet to create beautiful, clear patterns, and wearable fabrics.
Swatches are made in one of five different crochet stitch patterns: single crochet through the back loop, center (or split) single crochet, extended single crochet, center (or split) extended single crochet, and front post double crochet, with information about how the crochet stitch anatomy affects both the drape and feel of the fabric and also the look of the charted image, so that you can imagine how a chart would look in another stitch pattern. All the designs are crocheted in the round, so that you can keep the front of the work facing you, and then steeked – a technique that has not been covered in any other crochet book! There is also comprehensive advice on choosing stitches and fixing mistakes.
About the Author Brenda K. B. Anderson:
Brenda K.B. Anderson crochets, knits, and sews into the wee hours after her kids have gone to bed. She loves designing stuffies that make her laugh, and accessories that beg to be worn over and over again by her friends and family. Brenda the managing editor of Creative Crochet Corner, is the author of Beastly Crochet and Crochet Ever After and also teaches a Craftsy Class: Crochet Mittens and Fingerless gloves. She has contributed to several books and numerous magazines including Interweave Crochet, WeCrochet, Crochetscene and Knitscene. She lives in a little house in Saint Paul, MN where it is sweater weather nine months of the year. Brenda blogs about her crafty adventures at Craftsplosion.com.
Inside The Hooktionary: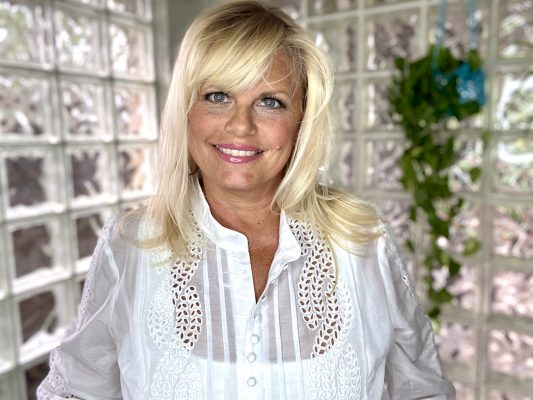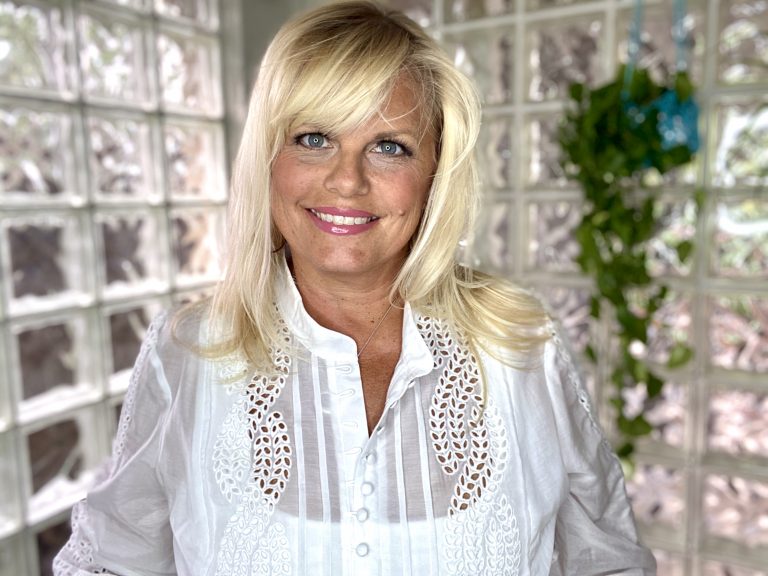 Kristin Omdahl is the best-selling author of dozens of knit and crochet books; designer of almost 1000 knit and crochet patterns; and producer of award-winning videos. You can join Kristin LIVE 5 days a week for The Kristin Omdahl Show on YouTube and browse through thousands of tutorial videos there, too. Kristin donates a portion of every sale to help survivors of domestic violence. Learn more about Kristin's charity, Project Kristin Cares HERE.
Shop all of Kristin Omdahl's knitting and crochet patterns, books and courses here:
I would love to see your creations. Just as much fun as making these myself is the satisfaction I get from seeing my designs come to life and other knit and crochet fans wearing them too. There are now 2 ways you can share what you have done!
I have recently added a wonderful new interactive section to the website which I invite you to take part in, it has been a smashing success and such fun so far. It is the new

"Share Your Project" section

. You, my creators, can upload images and descriptions of your creations to share with the ever growing community!

To upload simply click here. 

If you want to continue the party, join the KO Community Forums on my website. It is 100% PRIVATE! You can start or join forum posts, and even direct message others, too. Join the KO Community forums

HERE

 
Additionally, I host a livestreaming podcast, vlog or show on my YouTube Channel called The Kristin Omdahl Show. You can join the audience and even ask me questions LIVE! I often do a show and tell, or quick demo and I always interact with the live audience. It is a lot of fun!
You can browse through over 1000 previously recorded episodes HERE: The Kristin Omdahl Show Playlist. Make sure to subscribe to my YouTube Channel to get reminders when the next episode airs LIVE.
I look forward to seeing what you create!
xoxo,
Kristin